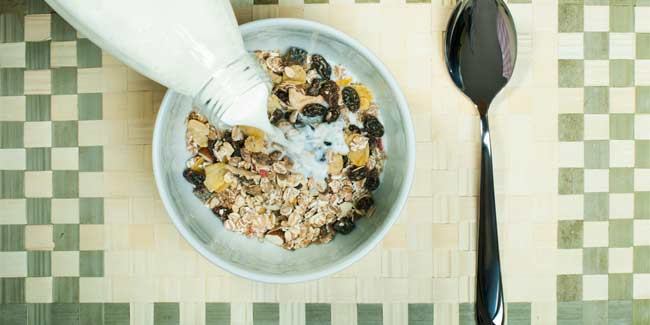 We've all heard the wisdom that a nutritious breakfast starts the day off on the right foot. Regrettably, a lot of us do not weigh the negatives of skipping it.
Breakfast is a very important part of our diet, as it provides all the energy and nutrition to kick start the day and perform our best.


Skipping breakfast is perceived to be a simple way of losing weight or saving time while rushing off to work. The reality is – if you are in a habit of skipping breakfast, you are living an unhealthy lifestyle.
[Read: 5 Healthy Breakfast Ideas]
When you wake up in the morning after going hours without food, you need lots of energy to help the body function appropriately. If you are not having your breakfast, the long period of time without food (semi-starvation) may affect you physically, intellectually and may cause behavioural problems.

Here are some important reasons why you should not miss out on the first meal of the morning.

Unhealthy lifestyle

A study at the Helsinki University revealed that starting the day without food suggests an unhealthy lifestyle. The habit seemed to trigger bad eating habits in the subjects. The extensive research studied 5,500 teenagers and their parents in Finland, primarily on whether they ate breakfast and how often. Moreover, surveyors retrieved details about education, weight and drinking habits.

It was found that parents who skipped their morning meal, teach their children to do the same. Disordered eating patterns were found related to health-compromising behaviours such as use of alcohol and tobacco. Skipping breakfast also triggers bad eating habits during the day, as subjects ate quick-fix fast foods often.

Risks of diseases

Breakfast helps boost metabolism besides elevating the energy levels. When you miss it, not only your energy level is hampered but it also puts you on the fast track to weight gain, heart disease and osteoporosis. It may lead to problems such as irritability or mood swings, menstrual irregularity, memory problems and hormonal problems. Those who skip breakfast are more likely to develop higher bad LDL cholesterol levels and are less sensitive to insulin.

Reason for fatigue

Missing the morning meal may make you fatigued early on in the day and you will have low concentration levels. You must have a nutritious breakfast; skipping which the metabolic rate decreases. This can make losing weight a difficult task.
[Read: Breakfast Ideas to Lose Weight]
Hyper insulin response

When you don't have breakfast and consume calories later on, it may lead to a hyper insulin response, i.e., levels of insulin in the blood is more than the glucose level. This is a kind of metabolic disorder, which may cause fat accumulation.

Helps control appetite

A research published in the European Journal of Clinical Investigation suggests that starting the day on a full stomach helps to control appetite and keeps weight down. A study of more than 3,000 Americans found that those who ate breakfast on a routine basis were significantly less likely to be obese or have diabetes.

It is the time to change the morning habit!
Read more articles on Healthy Eating.