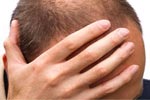 Are you bald and are sad about it? Try vampire treatment where hair growth is restored on bald patches by injecting your own blood.
It's only natural that you worry at the slightest sign of baldness. There are a few effective and permanent solutions for baldness; one of them is vampire treatment.


No, you don't get the chance to meet Edward Cullen or Dracula but the therapy is called so, only because it uses your blood that has powerful growth factors to treat hair.

Vampire treatment or vampire therapy is a latest technique that promises to treat baldness. There are several hair replacement and restoration solutions available in the market today, but vampire therapy is more talked-about than any other available options.
What is vampire treatment?
The 'vampire' treatment involves taking blood from the patient and processing it in a machine that extracts 'platelet-rich plasma' (PRP), which is then injected back into the head. New stem cells below the skin are stimulated to aid the re-growth of hair. The vampire treatment takes not more than 30 minutes depending upon the area you want to get treated.

Such treatments are already being used in cosmetic procedures, which include reducing the effects of aging on the face and hands by stimulating your own collagen production and cell migration to eliminate lines, folds and wrinkles. Moreover, similar treatments are being tested from treating ailments such as tendinitis and arthritis, demonstrating mixed results.
How vampire treatment is a better hair restoration alternative?
The procedure uses your own natural resources which rules out risk of allergic reaction.
Collagen production is stimulated over 2-3 weeks naturally, and the process remains steady.
Unlike other surgical hair restoration methods, the method does not cause swelling, bruising or lumping.
Most of the surgical hair replacement techniques take long, as much as eight hours to complete, whereas a session of vampire treatment takes 20 to 30 minutes.
What does research say about vampire treatment?
A study published in the British Journal of Dermatology suggests that human blood could be a possible cure for hair loss. The study was conducted among a group of people suffering from alopecia areata, a condition with hair loss one of its complications. The researchers were able to re-grow hair successfully over the bald patches on people's heads by injecting them with a solution derived from their own blood.

The study of 45 participants put blood plasma up as a treatment option against traditional steroid hair-loss techniques and placebo. It was found that vampire therapy was better than steroid hair-loss treatments and placebo to restore hair.

The scientists, based at the International Hair Research Foundation and University of Brescia in Italy and the Hebrew University Medical Centre in Israel, are carrying out further research to develop the treatment as a cream which will avoid the need for needles.
Is it popular?
Cosmetologist Dr Jamuna Pai states, "PRP is extremely popular and I have been a witness to that in international and national conferences. I am talking about this only because I believe in it and my clients give me positive feedback." She adds, "Results can be seen after at least two sessions of the treatment that is taken in a three-week gap."

Will your hair really re-grow?
Though the vampire treatment claims to regenerate hair, trichologist Dr Apoorva Shah disagrees. He states, "Let me make it very clear that there is nothing in the world which can re-grow hair naturally except the hair transplant."


Read more Health News.