The teething phase is excruciating for the infants. Specific remedies can help in reducing pain.
It is common for infants to cry out loud in their teething phase. This phase is harrowing and tricky for the infants as their gums itch, bleed and burn, which makes them cranky and difficult to handle. This phase can be confused with colic, but this is the time when infants are given sanitised teethers so that the infant can chew to relieve pain and irritation. Watching you kid getting cranky is the worst phase for the parents, especially when not much can be done to put an end to the discomfort. The doctor may prescribe a few ways to keep the kid distracted from the pain. Some common recommendations made by doctors during this phase can be vitamins and calcium, but being a parent, you too can take up several measures to help reduce the pain.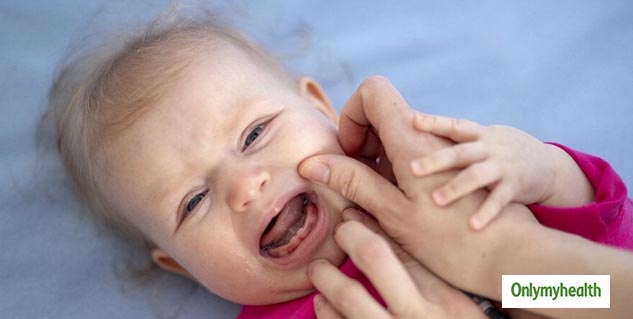 Tips To Reduce Teething Pain
Listed below are 4 such activities that parents can do to make teething less painful for their infant:
Massage The Baby
If you see your infant getting all restless and worked yup due to teething pain, then a soothing massage can help. While massaging, rub their head and legs with soft hands so that the baby becomes less cranky and comes at ease. Massaging the baby does not make any difference to their painful gums, but it makes them more relaxed and can also help them sleep. But, pay extra caution while massaging the baby. Do the same with soft hands without putting much pressure on the infant.
Also Read: Diarrhoea During Teething: Do Babies Vomit When Teething? Know Reasons & Prevention
Give Infant More Liquids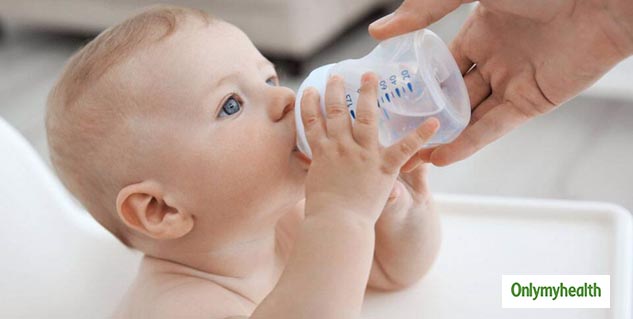 In the teething phase, give more liquids to the baby apart from breastfeeding. If possible, this is the time when breastfeeding mothers can keep some pumped milk in the fridge for a few minutes before giving it to the baby. Giving slightly cold liquids to the infants can help them feel a little more relaxed. Just like we provide ice creams to adults after any tooth-related surgery, the same works for infants too but the temperature should mild cold only.
Give Some Honey
Today, people mainly use honey to improve skin, enhance digestion, increase immunity, lose weight, etc. Apart from this, honey has antibacterial and antiseptic properties due to which it is also very useful in healing wounds or for quick relief from injury. This is why giving little honey to the infant helps in relieving pain and in turn, reducing the swelling in the gums. Make sure that you just give little honey at a time for the infant might take some time to get accustomed to the taste of honey in one go.
Consult A Specialist In Every Step
It is essential to understand that any home remedy given to an infant may not always be favourable. Hence, it is still better to consult a specialist just when the baby starts teething as they can suggest some remedial measures to help reduce the pain. Any medicines and multivitamins should be only given to kids after consultation with a doctor.
Also Read: Monsoon and Newborn Care: Tips For First-Time Parents To Keep The Baby Safe In Rainy Season
Always remember that never experiment on your child with anything even though most of these remedies are tried and tested but always keep the doctor in the loop before taking any measures to reduce teething pain.
Read more articles on Tips For Parents