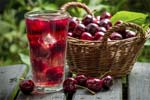 Insomniacs who drank Montmorency tart cherry juice twice a day for two weeks improved sleep time by nearly 90 minutes, claims a new study.
Researchers at the Pennington Biomedical Research Center at Louisiana State University claim that those drinking Montmorency tart cherry juice twice a day for two weeks can help improve sleep time by nearly 90 minutes among older adults with insomnia.


In the randomized crossover clinical trial, seven older adults (average age 68) with insomnia were given 8 ounces of tart cherry juice twice daily for two weeks. This was followed a two-week washout period and a two-week period when they were given placebo.

At the end of the 6 weeks, they found that during the 2-week period when subjects drank the Montmorency tart cherry juice in the morning and at night, they were able to sleep more than an hour longer each night. This was 84 minutes more compared to the placebo consumption.

During the trials, the subjects were in a controlled setting and an overnight polysomnography was used to evaluate sleep efficiency (such as sleep onset and duration). The study participants were given questionnaires related to sleep, fatigue, depression and anxiety. Moreover, blood work was conducted on each participant.

According to the researchers, the ruby red pigments in tart cherry juice, known as proanthocyanidins, is believed to be the reason for efficient sleep. These natural polyphenolic compounds are abundant in Montmorency tart cherries.

Tart cherry juice helped increase the availability of tryptophan, an essential amino acid and a precursor to serotonin that helps with sleep. The juice inhibited an enzyme (indoleamine 2, 3 dioxygenase) that degrades tryptophan, a known predictor of insomnia and is related to inflammation.

Insomnia is a medical condition in which one has trouble falling asleep or staying asleep through the night. Insomnia is either short-term when it last up to 3 weeks or long-lasting (chronic). Dietary choices do have an impact on quality of night's sleep. Besides, relaxation techniques such as deep breathing, getting into a "bedtime routine" of winding down and keeping stress in control contribute to beat insomnia.
(Source: Business Standard)
Read more Health News.