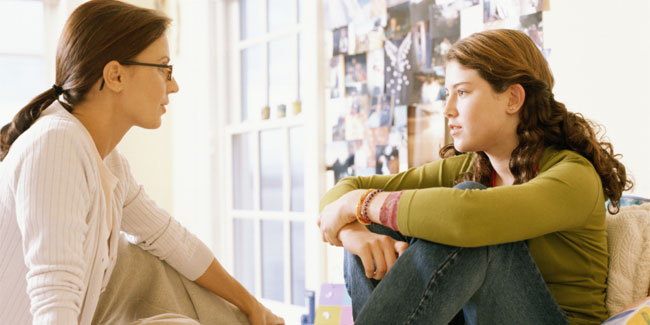 Knowlegless sex can put teenagers at a higher risk of unwanted pregnancies and STDs. It is a dire need to inform them about the prons and cons of sex.
Never let discussions take a moral or a religious undertone. Keep a very realistic approach while talking to teens about sex.
Talking to teenagers about sex also involves giving ample examples to inform them about the emotional and physical setbacks that it can cause to the individual.
Not being judgmental is another crucial aspect a guardian or a parent must be cautious about.
Biases often make the opinions strong and harsh making it worse for the teenagers to cope with it.
Show them the positive side of long term relationships and healthy marriages which are institutions much stronger than mere sexual acts.
Discussing STDs and teenage pregnancy remains vital. Teens need to be sensitised on the bad effects of having unprotected sex.
The discussion should give ample space and time for teens to speak. Ask them to share their thoughts and experiences. It is absolutely on the parents to decide on the kind of conservation depending on the level of intimacy they share with their children. The conversation should be an open one and should ideally end with a voluntary clearing of confusion.
Settle queries regarding a woman's menstrual cycle and make them understand scientifically as to how it leads to reproduction. Most teenagers are not aware of the menstrual cycle and end up having intercourse due to a miscalculation causing premarital pregnancies.
Discuss in detail the normal changes a body of a teenager is expected to undergo. Many teenagers remain curious and anxious regarding these physical changes and tend to discover ways and means to settle their queries from unauthorised sources, which is dangerous. These concerns are valid on the teenager's part and should be handled tactfully.
Discuss the outcome of spontaneous sexual acts. Every action has an equal and opposite reaction. There should be the right time to indulge in sex. This will safeguard your child against unwarranted pregnancies. Keep an optimistic viewpoint. Remember, teenagers are knowledgeable enough to know that sex cannot be something which is all that bad.
Explain how fatal STDs such as AIDS and Syphilis are. This can be best explained with the help of documentaries and short films.
Let your children know that you are open to discussions. Teenagers can be very choosy about disclosing information to parents or guardians. They would choose to come to you if you manage to build a rapport and trust with them.

Read more articles on Sex Education