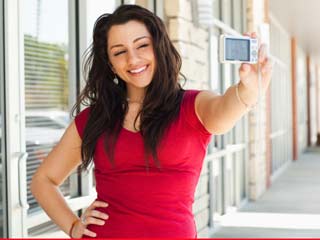 A recent study has suggested that clicking picture of your skin lesion and sending it to your dermatologist can be an effective way of skin care.
A recent study has suggested that clicking a picture of your skin lesion and sending it to your dermatologist for examination can be very helpful for skin care.

According to the researchers, an online model which was set for follow-up care of atopic dermatitis (eczema) provided patients an access to dermatologists which resulted in equivalent clinical improvement in comparison to the patients who received traditional in-person care.

A one-year randomized controlled equivalency trial was conducted by the researchers which included adults and children suffering from eczema and had access to the internet, computers and digital cameras.

In this study there were 156 patients, out of which 78 patients visited dermatologists at their offices for follow-up care and the remaining 78 patients had access to online care, which included electronically transmitting clinical pictures to dermatologists who examined them, gave treatments and prescribed medications.

The intensity of the condition was evaluated by patient-oriented eczema measure and investigator global assessment.

Author of the study April W Armstrong, from University of Colorado, Denver and his colleagues said "health services delivery in dermatology is an exciting and evolving field. With the changing health care environment and a growing demand for dermatologic services, technology enabled health care delivery models have the potential to increase access and improve outcomes".

Armstrong added "as with any novel health services delivery models, comparative effectiveness studies investigating health outcomes are critical to evaluate these new models in an evidence-based approach".
Image courtesy: Getty Images
News source: financialexpress.com
Read more Health News.