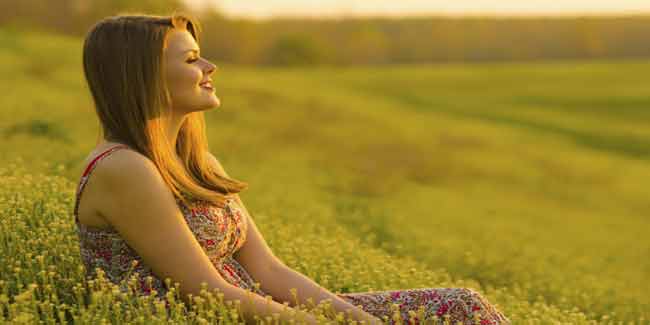 Since spring is the season of change in temperature and humidity, it is essential to take care of yourself in spring. A little care you can ensure that this transformation is smooth.
Though the idea of spring has always been aligned with rebirth and happiness, one cannot forget that spring is also the season of change. Taking care of yourself during this time of change can be a struggle.
As the temperature and humidity fluctuate, your skin and hair begin to show slow signs of battle against the shift. However, brittle hair and flaky skin seem odd at a time when the whole world around you is in bloom. When you can't decide if it is still winter or whether summer has arrived, it's time to brace yourself for the transition. With a little care, you can ensure that this transformation is smooth and you can enjoy the carnival of spring with fervour.
Smooth Hands



Constant exposure to harmful agents makes the skin especially vulnerable as the seasons change.
Scrubbing and moisturising hands during the day will help in keeping them soft and supple. Moisturising them before bed is also crucial.
Use hand gloves while doing household work such as washing dishes or clothes. Regular manicure is a must to pamper them after your hectic schedule.
Use a scrub to remove dead winter skin from your hands.
Use hand creams with SPF to shield against harmful rays of the sun.
Happy Feet



Mostly women tend to ignore their feet unless a problem arises. However, foot hygiene is important to keep fungal infections at bay and to carry off those beautiful shoes.
Washing and drying your feet thoroughly, especially the area between the toes is important. If you suffer from sweaty feet, use a medicated powder and wear fresh socks everyday.
Pedicure is a must as it reduces the chances of feet-related complications. It removes dead skin from the feet, prevents ingrown toe-nails and helps one get rid of calluses and corns.
Before the onset of summers, pamper your skin by exfoliating the dead winter skin and massage your way to a smooth and supple cover. Regular use of hydrating masks can also keep dry and dull skin away.
Deep-cleanse your feet. Wearing sandals and flip-flops regularly can stain your soles and even regular pedicures may not help. Dip your feet in a basin filled with a mix of water and hydrogen peroxide, then scrub away the discolouration with a pumice stone.
Under Your Skin
Take some time to rejuvenate your skin and reverse the effects of the neglect you treated it with during the harsh winter months.
Choose products that provide broadspectrum protection by blocking both ultraviolet A (UVA) and ultraviolet B (UVB) rays with a minimum sun protection factor (SPF) of 15.
Apply sunscreen liberally (at least a one-ounce shot-glass-size amount) before you step outside each day. Make sure you re-apply every two hours.
Your skin may feel less dry these days, but don't stash away the moisturiser yet. Switch to lighter, waterbased formulas instead to take care of both your face and body, and swap your heavy eye cream for a lighter serum.
Kiss my Lips
Lip care is an integral part of one's care schedule. It is so because the skin on the lips is very sensitive and tender. Apply lip balm to keep your lips moisturised and soft.
Exfoliating the lips removes dead skin and helps generate new and soft skin. You can use any lip scrub available in the shops or homemade lip scrubs. An easy method of exfoliating the lips is to first apply lip balm generously. Then take any old toothbrush, dip it in water and put a pinch of sugar on it. Use this brush to scrub your lips. Wash off and re-apply lip balm.
If you spend a lot of time in the sun, you must use a lip balm with SPF.
Apply honey on your lips for a few minutes and wash it off. Honey is a natural moisturiser and gives you soft lips.
Use lemon ridges to scrub your lips in order to remove any darkness since lemon juice lightens the skin naturally.
Always protect your lips from harsh weather conditions. Eat plenty of green vegetables and fruits. Gorge on food that is rich in vitamins and increase your intake of water. What you eat has a huge effect on how your lips look.
Merry mane
The secret to healthy hair is a clean scalp. You must make sure that you condition your scalp well.
Include a basic shampoo and conditioner in your routine. Don't wash your hair every day unless you have oily hair that requires daily cleaning.
You may use shampoos that are especially formulated to reduce dandruff. These do not need to be followed up with conditioners. Those with heavy dandruff and hairfall should seek treatment from a hair specialist.
Use a soft balm for a natural look while styling your hair. You can experiment with sprays when you opt for extreme styles. Conditioning is also important, since the scalp secretes less hair-protecting oils. Just be sure not to overdo it with the conditioner, or it may make your hair look greasy and lifeless.
Using a moisturising conditioner three times a week will help replenish the oils which are usually lost.
Little changes like using a scarf to cover your hair during summer and washing it regularly during winter months makes a big difference.
With inputs from: Anuradha CH, Anoo's Salon; Priya Bhandari, Jafra Cosmetics; Vivek Sahni, Kama Ayurveda; Dr Shobha Sehgal, VLCC; and Dr Rashmi Shetty, Parachute Advansed.
Read more articles on Body Surgeries