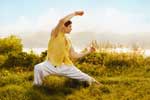 Tai chi has been found to be a better option for delaying ageing effects on the body
Tai chi, developed in ancient China, is a self placed system that involves a series of movements performed in a slow, focused manner and accompanied by deep breathing. Although it originated as a martial art and a means of self-defense, however over time, people began to use it for health purposes as well. Also called tai chi chuan, it is now commonly used as system of gentle physical exercise and stretching where ever posture flows into the next without pause, ensuring that your body is in constant motion. Tai chi is low impact, inexpensive and puts minimal stress on the muscles and joints, making it safer for all ages and fitness levels. Although tai chi is a safe technique, however pregnant women or people with joint problems, back pain, fractures, severe osteoporosis or a hernia should consult their health care provider before trying tai chi.
Tai chi incorporates the concepts of Yin and Yang which refer to opposing forces in Chinese and that of Qi which refers to the life energy. Practicing tai chi is believed to establish and promote a healthy balance of yin and yang, thereby aiding healthy flow of qi. There are many different styles, but all involve slow, relaxed, graceful movements, each flowing into the next. The body is in constant motion, and posture is important.
A recent year-long, retrospective and cross-sectional study conducted in Taichung, Taiwan has found that people who performed Tai Chi saw a rise in their cluster of differentiation 34 expressing (CD34+) cells. These cells are important to a number of the body's functions and structures. The study compared the rejuvenating and anti-ageing effects among three groups of volunteers under the age of 25 who engaged in Tai Chi, brisk walking, or no exercise habit. The results of the study also confirmed that Tai Chi benefits thr patients with mild to moderate Parkinson's disease and fibromyalgia. It was also observed that Tai Chi can also be very helpful in pain reduction, fall prevention and balance improvement, quality of life, aerobic capacity, blood pressure and stress reduction.
The study found that people involved in tai chi had a significantly higher CD34+ cell count as compared to other groups. These CD 34+ cells express the CD 34 protein and are the cluster markers for hematopoietic stem cells involved in cell self-renewal, differentiation and proliferation. Considering that brisk walking may require a larger space or more equipment, the researchers concluded that tai chi seems to be an easier and more convenient choice of anti-ageing exercise.
Image Courtesy: Getty
Source: Business Standard
Read More on Health News