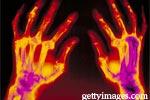 Problems like inflammation and swelling of the joints are some of the common symptoms of Polyarthritis. This commonly affects the spine and the fingers.
Polyarthritis is referred to a medical condition impacting multiple joints leading to arthritis. Poly arthritis affects more than 4 joints that are diagnosed with arthritis. According to The John Hopkins Arthritis Centre, polyarthritis is not an arthritis type rather a combination of psoriatic arthritis, rheumatoid arthritis and lupus erythematosus arthritis.

Polyarthritis is an auto immune disorder and unlike all other types of arthritis it is not caused by joint injuries. It causes inflammation and swelling of the joints and commonly affects the spine and the fingers. Polyarthritis affects many patients but is difficult to diagnose. Understanding how polyarthritis is caused will depend on the severity of the underlying symptoms causing it. It is usually treated with physical therapy and heat compression. The treatment of polyarthritis is simple: treat the symptoms and relieve the pain.

Symptoms of Polyarthritis is listed as follows:
Swelling of the joints
Excruciating Joint Pain
Redness owing to inflammation
Bogginess of joint
Restricted movement due to arthritis
Deformation overtly visible
Manifestations could include blood vessel redness and eye problems

Some symptoms can be detected as Polyarthritis is a combination of arthritis:
Psoriatic Arthritis is diagnosed by tissue inflammation that impacts the joints and bond. People who suffer from psoriasis are more likely to develop psoriatic arthritis. Asymmetric psoriatic arthritis can cause joint paints aligned to one side of the body, which is a symptom of the possibility of poly arthritis. Symmetric psoriatic arthritis generates pain in body sides of the body. It can result in deformities in fingers and bones in the hand.
Rheumatoid Arthritis affects 2 million people in the United States and is more prevalent in women than in men. Symptoms include extreme fatigue, weight loss, lung damage, anemia, heart problems and vision impartment.
Lupus Erythematosus Arthritis causes joint pains but not permanent damage. Lupus related arthritis affects the knees, shoulders, wrist and hands symmetrically. It damages the soft tissue between the joints and may damage internal organs at times. The symptoms usually occur in women of child bearing age but can occur at any age.
Alpha virus that causes polyarthritis is called alpha virus polyarthritis syndrome. Alpha virus is transmitted to humans through mosquito bites and may manifest symptoms such as fever, encephalitis and rashes. Dizziness, nausea and headaches may also develop along with severe joint pains.

Detecting the symptoms of polyarthritis at an early stage may ease the pain and delay the degenerative process of polyarthritis.