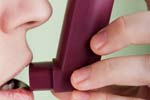 Symptoms of Bronchial Asthma: Know about common bronchial asthma symptoms such as shortness of breath, chest heaviness, chest pain, wheezing, excessive coughing, extreme fatigue etc.
Bronchial asthma is a lung problem where the air passage, that is, the bronchi, is blocked or obstructed. This blocks the respiratory passage and suffocates the patient owing to lower ventilation levels of the bronchi which in turn creates shortness of breath. A disturbance in the bronchi leads to paroxysms. Bronchi asthma is commonly referred to as asthma as a majority of people face the bronchial type of asthma.
According to the CDC research, over 23 million Americans inclusive of 7 million children under the age of 18 suffer from bronchial asthma. Allergy plays a crucial role in the development of bronchial asthma and other factors could be family history as asthma has a strong genetic component.
Causes of Bronchial Asthma
The causes for bronchial asthma vary from one person to another depending on the immunity and resistance level to allergens. A heightened level of resistance causes blockage of the airflow in the bronchial passages. Even though the respiratory muscles work hard to pump oxygen in to the heart, they over strain and become weak over a period of time. Despite the level of strain on the muscles to support the process of breathing and gas exchange, the blood vessels are unable to aid in airflow. This result in a bronchial attack owing to the spasms of the muscles and a swelling on the bronchial wall, this inflammation is accompanied by mucus secretion further blocking the respiratory tract. Cold and dry air, smoke, allergens like pollutants, pollen, dust, fungi, mold, stress, anxiety and respiratory infections increase your chances of developing bronchial asthma.
Symptoms of Bronchial Asthma

An attack of bronchial asthma results in mucus secretion which blocks the respiratory passage creating a whistling sound when you breathe. You may suffer from increased mucus secretion even between two asthma attacks resulting in chest pain and heaviness. If you snore too loudly, it could be a sign of bronchial asthma. Lot of people confuse wheezing with bronchial asthma and tend to ignore the situation. It is best advised to gauge and identify the symptoms of bronchial asthma to treat it timely and effectively.
Some predominant symptoms of bronchial asthma are as follows:
Shortness of breath
Chest heaviness
Chest pain
Wheezing
Excessive coughing
Extreme fatigue
Symptoms may not be same for every person but they will fluctuate from mild to severe amongst people facing bronchial asthma. Some people may have bronchial attacks after long time gaps whereas; other may need to deal with it on a daily basis. Usually, bronchial asthma is incurable but there are ways to prevent it like controlling your environment by using air filters, ensure dust free mattresses and pillow covers, and avoid harsh cold and dry weather conditions.
---
Related articles