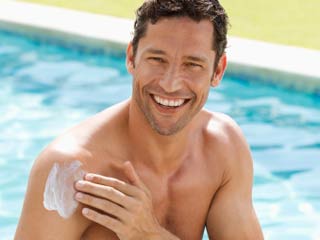 A latest research has shown that exposure to chemicals found in sunscreen could make reduce fertility in men.
A new research has suggested that applying sunscreen can have ill effects on a man's fertility.
It was found in a study that chemicals found in a sunscreen, which protect form the UV rays, can damage the male fertility.

The experts have cautioned that when these chemicals get absorbed by the skin, they interfere with the hormones. Men who are exposed to specific chemicals known as BP-2 or 4OH-BP had 30 percent reduction in fertility.

However, it was not clear whether there was damage to the sperm quality or the chemical inhibited fertility in another way.

To protect the skin and hair from sun damage, group of chemicals called benzophenone-type ultraviolet filters are usually used in shampoos, moisturizers and other cosmetics.

Surprisingly, while these chemicals had an effect on the male fertility, there was no affect seen on the females, the researcher noted.

Even though women were more exposed to UV filters overall, it led to no delay in them becoming pregnant.

In a previous research, a link between high concentrations of phthalates and reduced male fertility was found.

Men exposed to high levels of chemical Bisphenol A, found in plastic bottles, showed the same effect.

The researchers studied 501 couples who were trying to have a baby, recruited between 2008 and 2009.

These couples were a part of the Longitudinal Investigation of Fertility and the Environment (LIFE) study which was established how lifestyle factors and environmental chemicals had effects on fertility.

The women aged from 18 to 44 years and men who were 18 had never been diagnosed with infertility.

These couples were observed for a year until they became pregnant or kept trying. This was done to record the time the women took to get pregnant.

The researchers also tested their urine samples and measured for concentrations of five selected UV filters previously shown to disrupt the body's hormone and endocrine system.

While analyzing the data, the researchers controlled for age, body mass index and smoking among other factors.

The highest effect was noticed in men with the maximum exposure to chemicals.
Image courtesy: Getty Images
News source: dailymail.co.uk
Read more Health News.