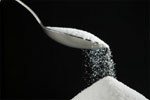 Sugar has now become to be recognised as the indeendent risk factor for various diseases such as those of the heart.
Lately, sugar has been at the receiving end of a bulk of blame for being the primary reason why people's health is deteriorating across the world. A lot of us, in fact, almost all of us consume more sugar than what we should and the bad news is that sugar does more damage to one's body that we have always thought.
Sugar has come to be recognised as the independent risk factor for fatal diseases such as cardiovascular diseases among other chronic diseases. Sugar has more roles to play in the damaging of one's health other than just causing obesity.

But, how do you define whether the amount of sugar that you are eating is too much or not. You'd be surprised to know what the researchers have to say: a little amount of sugar can go a long way. According to many experts, added sugars as those found in packaged fruit juices and other packaged foods are many times more harmful to the bodies than the naturally-occurring forms of sugar.
So, before you think about that delicious sweet treat, think about the long-term cost that it likely to have on you.
Article source: CNN
Image source: Getty Images
Read more Health News.