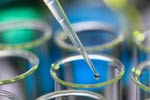 A new study trial shows that injecting stem cells into the heart muscles can treat heart diseases like heart failure and coronary artery disease.
A new human trial has shown that stem cells when injected into heart muscle are effective in treatment of failing hearts. The results of the trial show that the stem cell treatment is safe to use and improves the function of the heart when compared with placebo.
The trial reveals that this stem cell treatment has the potential to benefit a lot of people who suffer from the very common and deadly severe ischemic heart disease as well as heart failure. Ischemic disease, which is also known as coronary artery disease, develops as a result of gradual buildup of plaque in the coronary arteries of the heart. It can lead to chest pain, heart failure and heart attack.
In the study the researchers injected a certain type of bone marrow stem cell called mesenchymal stromal cells into the heart muscle of a collective of patients who had chronic ischemic heart failure.

At least six months after the treatment, the patients who receive stem cell injections had experienced an improvement in their heart pump function compared with those patients who received a placebo.
The research was presented at the American College of Cardiologyy's 63rd Annual Scientific Session held recently.

Article source: DNA
Image source: Getty Images
Read more Health News.