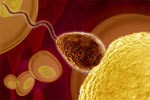 Researchers find that stress can be carried from one generation to another via sperm other than just the characteristics.
Turns out your father did not just pass on his characteristics to you and your siblings but also stress via genes. So says a research according to which stress alters aexpression of small RNAs in the sperms, causing depressive behaviours in the generations to come. The findings were done based on a lab research.
The lab research showed that stress in early life altered production of small RNAs, referred to as microRNAs, in the sperm of mice. The mice showed signs of depressive behaviours that stayed in their offsprings. this also showed glitches in metabolism. A neuroscientist at the University of Zurich, Switzerland said that the father has a more important role in the process of reproduction than just delivering his genome.
The team of researchers, from time to time, took the mother mice away from her young pups and put the mother to experience stressful situations;this included putting the mice in cold water or physically restraining them. The separations happened every day every day but at such times when the mother could not comfort her pups before separation. When the mother was raised in this manner, the male offspring showed depressive behaviours and also underestimated the risk.
The sperm of the male mice showed an abnormally high expression of the five microRNAs. One of these, referred to as miR-375, has been associated with stress as well as regulation of metabolism. The team of researchers are now looking into whether similar micoRNA biomarkers occur in the people who are exposed to traumatic events or in children.
Article source:TOI
Image source: Getty Images
Read more Health News.