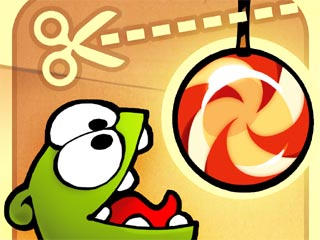 Researchers find that playing games on the phone can actually help to make the brain work faster; in the study, students improved their thinking power after 4 weeks of playing Cut the Rope.
Yes, smart phones have become infamous because of their ability to draw people so hooked to them that the world for such people seems like nothing but a void. Despite of knowing this, people tend to still remain pretty much hooked to their cell phones. What's more, researchers have come up with a favourable finding for smartphone addicts. Apparently, playing games on the smartphone like Cut the Rope can help to increase focus as well as concentration and make one think faster.


The findings were from a recent study done on mobile games that were carried out on 52 NTU students by psychologists from the Nanyang Technological University. Assistant Professor Michael Patterson, who carried the research with PhD student Adam Oei said, "Mobile games are getting popular these days so we wanted to study the mental effects of these games and their implications".

The undergraduate and all non-gamers, were asked to play at least one of the four games- action game Modern Combat, real-time strategy StarFront Collisiom, arcade game Fruit Ninja and puzzle game Cut the Rope for at least an hour a day for five days a week over four weeks.

Before and after the gamine period, the participants were given a series of standard tasks that measured how fast they could switch the tasks, how well they could focus on information while blocking the distractions out and how fast they could adapt to new situations.

The researchers found that the only group of 15 students who played Cut the Rope showed a great improvement in all the three tasks. After about 20 hours of game play for over four weeks, the students could switch between tasks 33 percent faster than before. These students were 30 percent faster in adapting to new situations and about 60 percent better in blocking out distractions.

"Cut the Rope improved brain functions probably due to its unique puzzle design. Strategies which worked for earlier levels would not work in later levels. This regularly forces players to think creatively and try alternate solutions. This is unlike most other video games which keep the same general mechanics and just need players to speed up or increase the number of items they keep track of", said Dr Patterson.

Article source: thestart

Image source: guidesecure.com

Read more Health News.