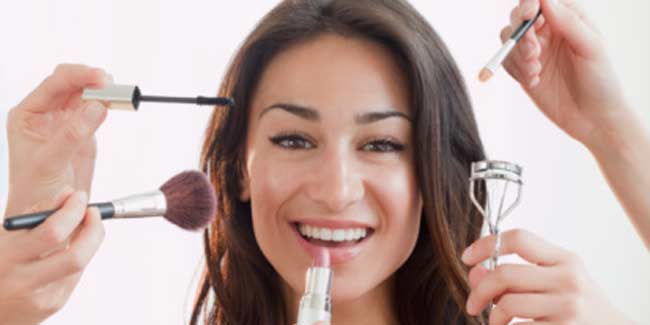 Knowing the best suited shade of your cosmetic or the best looking hairstyle for you was never so easy. These apps will give the look you always longed for.
Clicking a selfie and sharing it instantly on social networking apps and sites may give an immense amount of pleasure but those dry skin flakes, acne, and dark circles must be giving you shivers. But you don't have to worry anymore because technology has come to resolve all your woes. Mobile apps for your smart phones now allow you to add makeover effects to your pictures after which you are ready to flaunt your flawless looks before the rest of the world.


Makeup
Makeup app is a tool which lets you experiment with your cosmetics and your hair do and adds different makeover effects to your picture. This app is completely free of cost and is loaded with numerous makeover tools. It gives you an option to choose between various cosmetics like lipstick, foundation, eye shadow, lip liners, etc. The app is has tons of unique colours and hairstyles and lets you visualize the makeover.




Celebrity Makeup Looks
The celebrity makeup looks is an app that comes with many makeup tutorials which help you learn makeup techniques. Also, you can access makeup videos of popular celebrities and learn from them.




Bangstyle
This app will help you see thousands of hairstyles quickly on your phone. It also lets you locate a salon nearby with directions and share stuff on social platforms. This app is free of cost and is completely hassle-free.




Perfect 365
This app helps the users to rectify and clean up their photos. It comes with some very useful makeover tools such as photo editors, one touch makeover, and photo enhancer tool. The app has a face detection tool integrated in it and comes with a special feature for social sharing. This app is very user-friendly and comes free of cost.




Beautylish
The app is loaded with features which let you read beauty tips, watch makeup tutorial videos, read reviews by users on makeup, nail designs, hair styles and much more.
Pictreat
This app lets you do a retouch to your picture and helps you make everything appear perfect. Now, if you see a scary red-eye on your picture or you feel sad about the imperfections on your face, Pictreat will help you get rid of all.




OPI
This app lets you choose between a wide range of nail paints and allows you to choose the best shade for your nails. You can then use the shade in your next mani/pedicure.
When you have to decide the best shade for your eye or the best hair do for the next party, these apps will make your job much easier.
Read more on Health Apps.