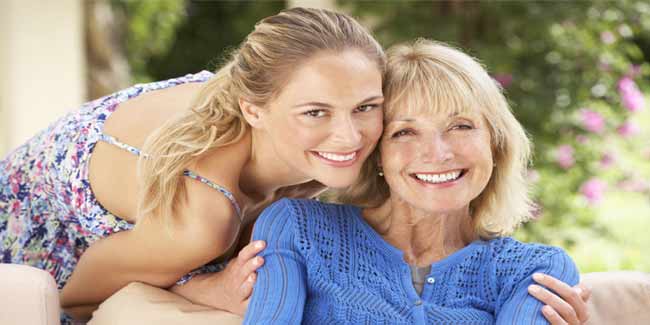 We can't stop the process of ageing but can keep but can defy the nature and make our skin look younger. Let's prove 50 is just a number. Find out how.
As you age, your skin ages too and needs more care than before as the body's replenishing power decreases.
Wrinkles, lines and sagging become a part of ageing but certain steps can delay their onset.
Hydrate
Drinking at least eight glasses of water helps keep the skin glowing. As you age, the skin becomes drier and hydrating yourself from inside is the first best thing you can do for your skin.
Use a moisturizer
A heavy duty moisturizer will work well for dry skin while a normal and an oily skin can do with a water based moisturizer. Use a hydrating lotion in the morning and before retiring to bed.
Protect your skin from sun damage
Ageing skin can suffer more damage due to exposure to harmful sun rays. Shield your skin by using a sunscreen with an SPF ranging from fifteen to thirty.
Use anti-ageing creams
Use creams containing renova, which is a vitamin A derivative and proven to defy ageing by reducing appearance of wrinkles and other age related skin changes.
Exercise
It might not be skin care regimen per say but it helps in skin health. It helps release toxins from the body giving your skin the healthy glow which can come from inside only.
Exfoliate
Exfoliation becomes essential while ageing. "The outer layer is a roof of dead skin, and it thickens as you age, so you need to exfoliate to see more of the fresher skin," says Steven J. Pearlman, MD, a New York City plastic surgeon in Ladies Home Journal.
Aromatherapy
Adding essential oils like lavender and sandalwood gives your skin the much deserved relief from stress.
Make-up
Do not blush your face with any make up especially near your cheeks. This would darken the wrinkled skin areas and show you more elderly.
Some Useful Tips
Avoid overly hot baths or showers. Hot water tends to dry out the skin.
Use a non-soap cleanser and avoid harsh soaps.
Apply moisturizer on a slightly damp skin which helps it get locked in the skin.
Take care of black marks around your eyes. Have a sliced cucumber or tomato always on your closed eyes when you go to sleep. This would cool you down as well as remove black circles.
Stop smoking as it tends to hasten ageing.
Eat nutritious food which helps the body skin to repair.
Older, fair skinned people who have spent a lot of time in sunlight tend to develop melanoma- skin cancer. Be cautious to observe any related signs.
More costly doesn't always mean better. That's not to say that the expensive products don't work. It just means that the less expensive ones probably will too.
Identify your specific problems. Lines and wrinkles, loss of elasticity, uneven skin tone or dark circles under the eyes are all problems reported as we get older. Purchase products that are made to work on your specific complaints.
Give the products time to work. Nothing is going to work overnight. You might want to read product information or reviews to see how quickly you can expect to see results.
Read more articles on Skin Care.