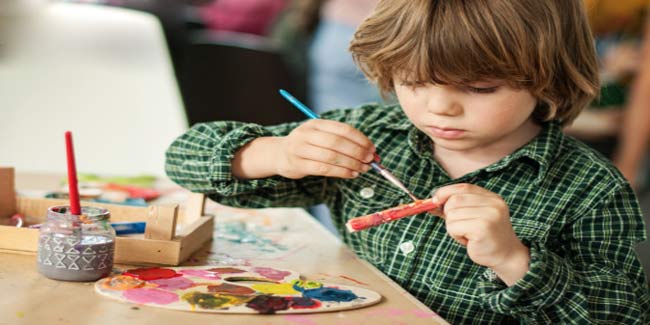 Your beautiful house has everything you may need but it may also have some cancer causing agents that you should be very careful about.
For most of us, our home is like a castle and the healthiest and most suitable place. But are you sure it's really safe for your health? Well, believe it or not, your house may have more dangers inside than what you may face outside. Do you remember coming across information about infamous formaldehyde, methylee and chloride nitrobenzene on the internet? If you have, you may already know what they are. But, if you have not, these elements can be found in everyday items such as dyes, shampoos, rubber, plastic and perfumes. Here is a list of the things that you thought were completely safe but aren't, so help yourself by getting rid of them.
Art Supplies
Parents of kids know how important art and craft supplies are as they not only keep the kids busy and entertained but also provide them much needed creative and development stimulation. But did you know these art supplies like rubber, cement glues, epoxy, acrylic solvents, paints and permanent markers contain chemicals are linked to organ damage, cancer and allergies? Moreover, children are more vulnerable to such toxins because of their immature immune systems and higher metabolisms. Hence, parents need to pay extra attention on the products their kids use.
Antiperspirants
According to some studies aluminium based antiperspirants may increase the risk for breast cancer. Most breast cancers develop in the upper part of the breast as it is the closest area to the armpit where antiperspirants are applied. Studies suggest that chemicals from antiperspirants get absorbed into the skin leading to cancerous changes in the cells. Hence, it is best to use home made antiperspirants.


Air fresheners
Many air fresheners contain volatile organic compounds, toxins and carcinogens such as phthalate esters in their formulas. According to a study of the 13 common household air fresheners by Natural Resources Defense Council (NRDC), most of the surveyed products contain chemicals that can affect reproductive development and aggravate asthma. The chemicals which are emitted from air fresheners can accumulate in the fatty tissues over time causing dangers to your health. You should replace such toxic air fresheners with natural fragrances from essential oils.
Shower curtains
Plastic shower curtains contain toxic chemicals which not only affect your bath or shower, but also emit harmful chemicals called VOC's or volatile organic chemicals in the environment. In addition, these curtains release phthalates under hot and steamy conditions. Reducing your contact with any of these products will surely make your home your castle. Go for lenin, hemp or cotton shower curtain instead of plastic curtains.
Candles
According to a study conducted by U.S. Consumer Product Safety Commission (CPSC), 40 percent of candles in the market contain lead wires inside their wicks. Scented candles most commonly contain lead wicks as fragrance oils soften the wax. Lead is used to make the wicks firmer. The study shows that a candle with lead wick releases five times the amount of lead considered hazardous for children, and exceeds the Environmental Protection Agency (EPA) pollution standards for outdoor air. Exposure to high amounts of lead for prolonged time may lead to learning disabilities, hormone disruption, behavioral problems and many other health problems.
Image Courtesy: Getty
Read more articles on Cancer