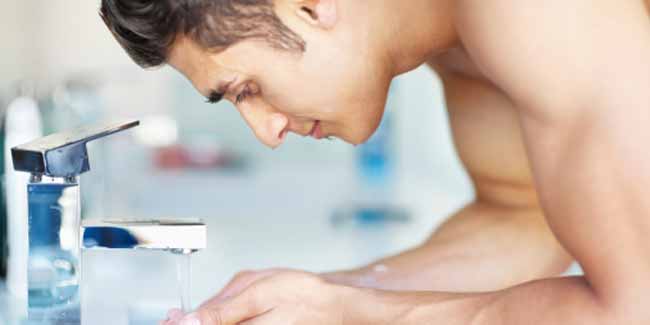 Washing the face is a part of our daily life. But, when we do something over and over we tend to ignore its intricacies. Have you ever thought what effects your face washing techniques could have on your skin? Here is some useful information.
Washing face at least twice a day is an important part of our lives. While some of us like doing it in the shower, some people do it separately over the sink. But have you ever wondered what effects these practices have on your skin? Have you ever tried to figure out which is a better place to wash your face? A sink or under the shower? Here is a check.
Washing Face under the Sink
Washing face over the sink must be done a certain way so that you do it right. Here is a step-by-step guide on the right procedure of washing face over the sink.

Step I: First, you must make your face free from hair. Pull back all your locks and tie them up into a neat bun or a high ponytail with the help of an elastic band. If tying hair makes you uncomfortable, you may also use a head band to keep your fringes away from your face.

Step II: Splash some water on your face. Once your entire face gets moistened, use a gentle facial cleanser to cleanse it. Apply the cleanser all over the face using your finger tips in a circular motion.

Step III: Never miss to exfoliate. Go for a gentle facial scrub that has tiny beads and can exfoliate the face slowly. Once the exfoliation is done, rinse the face with fresh water. Be sure that you don't miss certain areas like the hairline, jawline, both sides of the nose, etc. while washing the face.

Step IV: Use a soft and clean towel to pat dry your face.
Washing Face in the Shower
Here is a step-by-step guide to wash your face while taking a shower. Although there is not much of a difference between the two techniques, you must be aware of even the minutest details to ensure a thoroughly cleansed face.

Step I: When you wash your face in the shower, it may get difficult to keep your hair away from the face. So, wear a shower cap to cover your entire head. If you want to wash your hair, you can rinse it backwards.

Step II: You will not have to rinse your face separately because your entire body will be moistened while showering. Just wait for a couple of seconds to let the complete face become wet.

Step III: Now, use a mild facial cleanser and clean your face just like you did over the sink. If you feel the need to exfoliate your skin, you may again use the earlier method.

Step IV: Rinse your face with fresh water and pat it dry with a soft towel.
Sink or Shower? The Better Choice
Washing face in the shower is always recommended more than doing it over the sink. Although washing face over the sink may appeal to you more because of its convenience, experts still do not treat it as a healthy practice. Washing face during shower can make the entire process a perfect and healthy one. It is a common and unconscious practice to spend more time cleansing the face in the shower than we do over the sink. This leads to deeper cleansing which opens clogged pores in a simpler and more efficient manner. It is also believed that shower can work as a huge steamer for the face.

Now, that you know what cleans your face more efficiently, you can make your choice wisely.
Image courtesy: Getty Images
Read more on Skin Care.