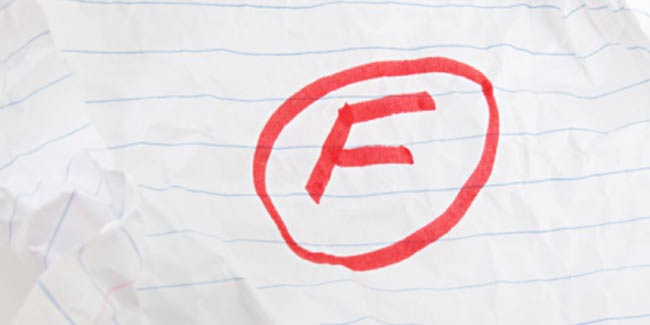 If you happened to score below the standard you expected, do not be dejected because there are plentiful of opportunities to drive home with.
The month of May is a nerve-wracking period for Indian students because it is time for their results to pour in. Moreover, it is a crucial period for students taking a leap forward in their professional lives i.e. the students of class 10th and 12th. If your results have been declared and the next few days seem like a halo of darkness, make sure that you do not feel dejected and follow these steps to cope with disappointment.
Do Not Drown in Sorrow
Just because you did not score as much as your friends did in the examinations, do not drown yourself in utter despair. All that it would do is keep you distracted and from putting your best foot forward in other subjects. Try to remember all the great people who failed repeatedly. What makes sense is to get up with twice the strength each time you are pulled down by bad grades. You could talk about your feelings to a trusted friend or an adult who understands you. Keeping the negative feelings inside you will make matter worse.
It is an Opportunity
Try to see the bad grades as an opportunity to learn. It depends on you to see whether what you can do about the failure is to either see what you lost in it or what there is to gain from it. There are some people who whine and feel sad to see their results doing down, but there are others who get motivated to push harder. Which one would you like to be?
Do something that requires Energy
And, of course something that you would enjoy doing, such as cycling, biking, dancing or jogging. Doing so will be a cathartic experience i.e. it will help you to release your anger and other emotions and feel better.
Try to Question your Reaction as well as Yourself

To feel bad is inevitable and in fact, extremely unproductive. Tell yourself that brooding over spilt milk is not going to help but going ahead and taking an appropriate action. Ask yourself if feeling broody is helping you in any way. Be honest when you answer these questions.
Look towards the Future
Try to tell yourself that this is not the end of the academic career. There are more tests that are yet to come and you can definitely bring your true potential out in them. So, just because you have not been able to clear the current examinations doesn't mean that you will forever remain the same and have no opportunities left.
Image courtesy: Getty Images
Read more articles on Stress Management.