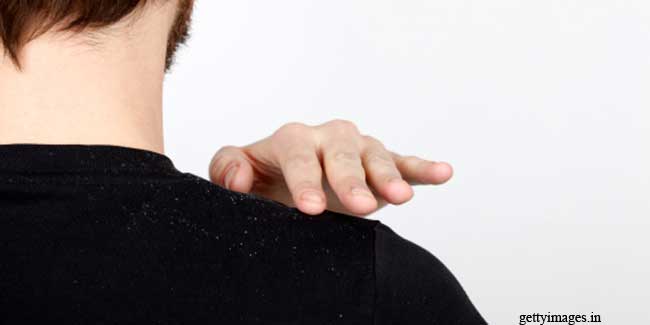 Getting rid of dandruff is not as hard as perceived. Here is all that you need to know to say goodbye to it.

Dandruff is a condition where the skin cells on the scalp are produced in excess, causing irritation and itching. Scalp skin becomes dry, chafed, scaly and itchy. Dandruff spores become resistant to products and they slowly infect hair area causing hair loss too. It might arise from an imbalance of your normal body function whereby the metabolism goes haywire. Dandruff can be caused due to many factors such as stress or a bad diet. A dry scalp may be due to deficiency in protein in the diet and a greasy scalp, due to over production of sebum or oil producing flaking on the scalp. One usually develops dry dandruff in cold weather and greasy dandruff when it's warm. Speaking to Cityplus Dr. Arpana Santhanam Cosmetologist parachute therapy reveals more about myths and facts related Dandruff.
Reasons for dandruff
Dandruff is the visible shedding of the scalp. Some amount of dandruff is the natural turning over of the cells of the scalp. However, persistent itchy dandruff can be due to fungal infection of the scalp and in more severe cases, a precursor of other severe diseases of scalp.
Natural Precautions for Dandruff
Ensure the scalp is kept clean by cleansing your hair and scalp as frequently as needed. Avoid sharing towels and combs and as far as possible, let your hair dry out naturally.
Myths related to Dandruff
Dandruff is always natural.
Dandruff does not need treatment.
Dandruff can never be cured.
Dandruff is contagious.
Facts related to dandruff
Only some varieties of dandruff are chronic.
Dandruff can be effectively controlled by anti dandruff shampoos.
Chronic dandruff needs treatment.
Dandruff is rarely contagious.
Oil Therapy: Hot oil massage helps to nourish dry skin follicle and stimulate production of sebum. Massage coconut oil or any oil which you use with palm and finger tips for 10 minutes. You can also Steam by placing a hot water towel, then shampoo. Use a good conditioner which suits your hair for rich conditioning. Use this treatment once a fortnight.
No itching
Add two drops of Rosemary oil in your hair oil and massage into your scalp and leave overnight.
You can add one tsp of lemon juice; add a pinch of black pepper and massage your scalp before shampoo.
Try for Ayurvedic anti-dandruff hair washes available in the market which relieve itching.
You can also try a medicated anti-dandruff shampoo.
Read more articles on Hair Care.