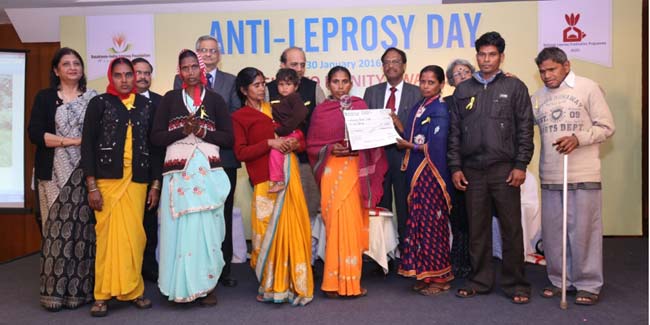 Shri Bhanu Pratap Sharma, Secretary, Ministry of Health and Family Welfare, was the Chief Guest at Sasakawa India Leprosy Foundation's "Rising to Dignity Awards".
NEW DELHI, JANUARY 30, 2016: Shri Bhanu Pratap Sharma, Secretary, Ministry of Health and Family Welfare, was the Chief Guest at Sasakawa India Leprosy Foundation's "Rising to Dignity Awards", announced on the occasion of Anti-Leprosy Day 2016. The awards were given to the best livelihood initiatives that have helped mainstream people affected by leprosy, enabling them to make a successful transition from begging to dignified livelihood. The awards included a cash prize of Rs 1,00,000, a trophy and a citation.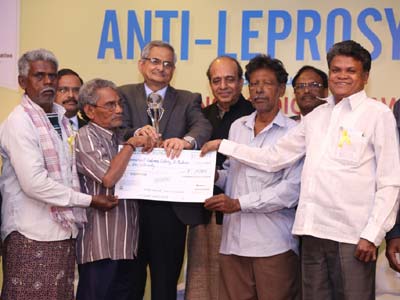 The "Rising to Dignity Awards" were given to two Dairy Projects each in Chhattisgarh and Andhra Pradesh and a general utility store enterprise in Maharashtra. The project teams received the awards from Shri Bhanu Pratap Sharma, Mr Dinesh Trivedi, MP & Convenor and Mr Jagdish Prasad, Director General Health Services. The special event was organized jointly by Sasakawa-India Leprosy Foundation (S-ILF) and National Leprosy Eradication Programme (NLEP).

The MoH&FW also released the NLEP e-newsletter and the LCDC Guidelines on the occasion. The e-newsletter can be accessed on www.nlep.nic.in by the public. The Guidelines are also a first of its kind, in line with the Pulse Polio Campaign, providing vital key messages for field staff during house to house visits and examinations, working on leprosy in high endemic districts.

The special event also witnessed a play by the schoolchildren of The Shri Ram School, Moulsari campus, Gurgaon and the screen launch of a 10-minute documentary film on the stigma of leprosy. The film is written & scripted by Mohammad Faisal Salim and directed by Imran Haider, with support from S-ILF and Dr Syed Farooq, President, The Himalaya Drug Company.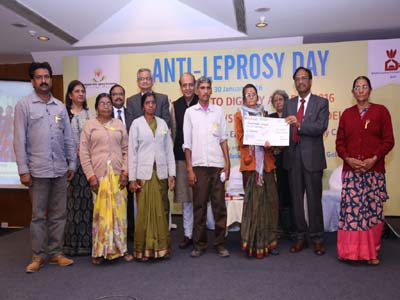 Speaking at the occasion, Dr. Vineeta Shanker, Executive Director, Sasakawa India Leprosy Foundation said, "Despite years of effort by the Government as well as civil society to eradicate leprosy, the biggest need of the hour is removal of stigma against persons affected by leprosy. We need to take urgent and active steps at the policy level to remove the discriminatory practices against people affected by leprosy. Myths around the disease continue to persist in our society and must be tackled through policy advocacy and public education."

Through the centuries, Hansen's disease – commonly called leprosy – has been one of the most misunderstood ailments. However, leprosy is curable and treatment provided in the early stages averts disability. Multidrug Therapy (MDT) treatment has been made available by WHO, free of charge, to all patients worldwide since 1995, and provides a simple yet highly effective cure for all types of leprosy. Elimination of leprosy globally was achieved in the year 2000 (i.e. a prevalence rate of leprosy less than 1 case per 10 000 persons at the global level). Nearly 16 million leprosy patients have been cured with MDT over the past 20 years.

Despite being signatory to the above two UN resolutions, in recent times the Indian Government has not taken any pro-active action to modify or repeal any leprosy laws, or to eliminate discrimination against persons affected by leprosy. In India, where 1,27,000 new leprosy cases are reported each year as per the NLEP Report 2013-14, the stigma attached to the disease remains one of the biggest challenges.

About S-ILF (Sasakawa-India Leprosy Foundation)
Sasakawa India Leprosy Foundation (SILF) is a charitable organisation dedicated to the task of mainstreaming leprosy affected and cured people through economic and social empowerment. Instituted in 2006, SILF is the brainchild of Mr. Yohei Sasakawa, the WHO Goodwill Ambassador for the Elimination of Leprosy and Chairman of The Nippon Foundation.

S-ILF works for economic and social integration of the people affected by leprosy with mainstream society by regaining independent and sustainable means of livelihood through enhancement of their skills and abilities to access market opportunities. SILF's scope of work encompasses helping children of leprosy affected people to gain access to education, training them in feasible livelihood streams and drawing them away from the demeaning and soul destroying activity of begging. SILF also works towards raising awareness among different groups of people against social and economic discrimination of leprosy affected people.