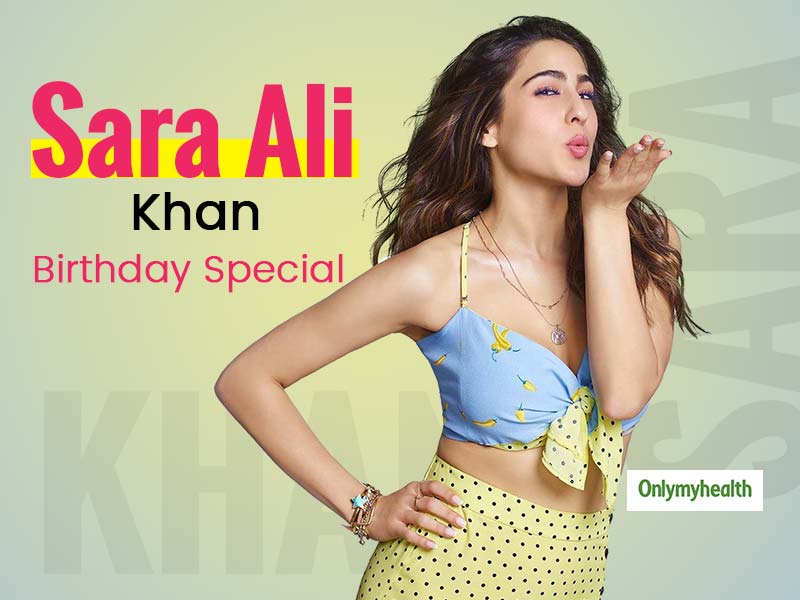 Happy Birthday Sara Ali Khan: Know how this new generation actress lost almost 30 kilograms despite being a patient of PCOD.
Happy Birthday Sara Ali Khan: Sara Ali Khan, daughter of Saif Ali Khan and Amrita Singh, is one of the most loved actresses of our generation. She debuted with Abhishek Kapoor's 'Kedarnath' last year for which she received Filmfare award for the best female debut of the year. In just one year, she has two successful films under her name, which is simply amazing! But today we aren't going to talk about her filmy career but something else which is surprising and inspiring, her journey of losing a whopping 30 kilos! Sara was once 96, and now she is a hot chic who is adored for her toned figure by paparazzi. But this wasn't easy for her, a patient of PCOD. Yes, Sara had PCOD, and despite that, she lost commendable weight. You can see the transformation in the picture below.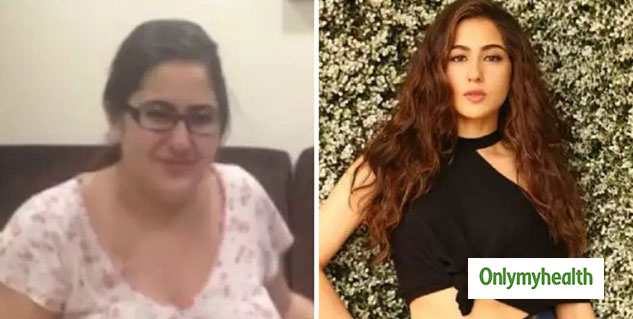 Sara Ali Khan Fitness
Sara Ali Khan's fitness level will give you the primary motivation to hit the gym. The actress lost a tremendous amount of weight even with PCOD. She did all it takes to beat PCOD and lose weight. Sara revealed that she was 96 kgs during the last year of her graduation. Sara summed up her weight loss journey as a transition from pizza to salad and from lethargy to cardio.
"I started eating healthy and began working out when in New York. There were so many different types of classes in that city, from functional training to boxing to cycling. But because I was so overweight at the start, [my routine] was more about cardio-heavy workouts like walking, cycling and hitting the treadmill—so that I could lose the weight before entering the intermediate forms of exercise," Sara said in an interview with a magazine.
View this post on Instagram
Sara Ali Khan Workout and Training
Sara follows a combination of functional training, Pilates, boxing and cardio. Sara's transformation from fat to fit required a lot of efforts and dedication. The actress has worked hard to achieve that fitness level. Sara said that she likes to change things often, but one thing that remains constant is working out regularly. Sara follows a strict routine and ensures that she work out for an hour and a half every day.
Sunday is the chill day for Sara, and she skips her exercise to relax on Sundays. During an interview, she was asked about her favourite workout routine. She explained that if the week involves a lot of physical work, then Vinyasa yoga or a Pilates class is her choice. On the other hand, if the week is loaded with stress, then 45 minutes of boxing session is her preference as it pumps adrenalin.
Also Read: Running Vs. Climbing Stairs: What's Good and What's Bad
One thing which is quite clear and widespread is that Sara is a Pilates girl. B-town's famous trainer Namrata Purohit posted so many pictures and video of Sara Ali Khan on social media. Among other celebrities, she is one of her Pilates girls. Even Sara mentioned that she loves Pilates. She calls Pilates the backbone of her fitness.
When asked about her secret behind her strong core, Sara answered - "It has to be Pilates—it strengthens body balance and works on your core, which is the powerhouse of your entire body. Doing Pilates has enabled me to gain strength that's not only helpful in looking good but also in boosting physical stamina. Pilates is the backbone of my fitness."
Sara Ali Khan Diet
Weight loss is not just about exercise and heavy training. It also includes a proper and restricted diet to achieve the desired results. Sara also follows a restricted diet. In an interview, Sara said that she does not consume milk, sugar and carbs. She calls it a sad life when it comes to food. Her mornings usually start with turmeric, spinach and hot water on working days. Sara mentioned that she adds two compulsory elements to her diet, which are- eggs and chicken. When it comes to snacks, Sara chooses a healthy snack - cucumber.
Also Read: Weight Loss Diet Plan: Top 5 Vegan Foods To Reduce Fat From The Body
Post-workout meal
Sara's post-workout meal includes- Greek yogurt with a scoop of protein and a little bit of coffee.
Cheat days!
No one can live without cheat days. Even Sara suggests that cheating the diet once a week is normal.
Is Sara on a Keto Diet?
Keto is a big No-No for Sara. In an interview, when asked about the craziest diet trends, Sara answered that Keto diet is the trending diet she never understands and she also suggested not to try it. For Sara, Keto didn't work well, so she is not a Keto fan.
Read more articles on Exercise and Fitness