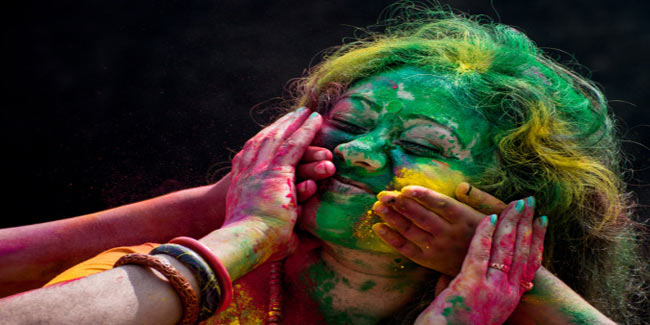 Homemade face packs to remove holi colour are the best and easiest ways you can get rid of the toxic colours without troubling your skin.
It's time for colours and joyous celebrations as holi is round the corner. The celebration of the victory of good over evil had been going large scale year on year with a wide range of colours and customised toys. It's obvious for you to be all excited about the big day, when you will get to enjoy with your friends and family and play with so many colours that can make your life appears more colourful then it ever has been. However, deep down somewhere you may also be worried about your skin, as most of the chemical based colours are harsh on your skin.
While you have all the fun, let us figure out ways to care for your skin and minimise the damage to your skin. Here are some of the natural ways in the form of home-made packs that can help you easily remove the colours from your skin once you are done with the fun.


You can mash a banana in a bowl and add two spoons of milk and honey into it and mix them well. Apply the pack everywhere there is colour on the skin and allow it to dry. After around 45 minutes, scrub the pack off with the help of mildly warm water. Since the pack is home-made and natural, you can apply it as couple of times more until the colour is gone.

To make sure that holi colours don't leave your face dry and desperate for moisture, mix one spoon of masoor dal with one spoon of flour, one spoon of rose water and a pinch of turmeric powder. Apply the pack on your skin or face and let it dry for 20-25 minutes. Once dried, gently scrub the face with very little lukewarm water for 5 minutes and wash it off with water later. You will discover that your face has become clean, clear and healthy.


Wash your face with water. After washing, apply lemon juice and aloevera on cotton and wipe it on your face. This solution will help you get rid of dry colours on the skin. To remove paint from the skin, soak cotton in coconut oil and wipe it all over your face. Wash if you feel excessively greasy or oily on the face.

Never use cold water to wash the colours off. Cold water will only make the colours stick to the skin. Avoid rubbing the skin hard to rid the colour off. Rubbing skin hard may cause rashes, especially if you have a sensitive skin. If the colour is stubborn, you can rub lemon all over.
Image Courtesy: Gett/www.beautyglimpse
Read more articles on Festival Fever