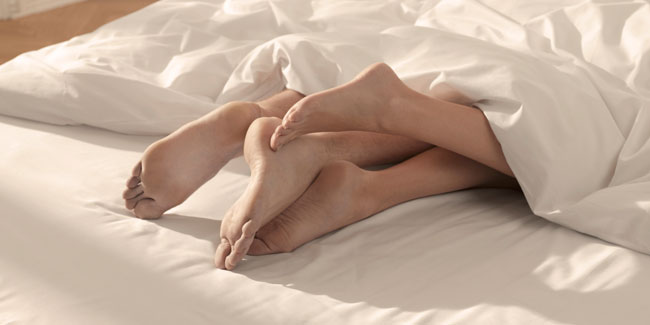 Relationship between Feet and Sex - Behavioural as well as biological relationships have been found to be real or just assumed to exist between feet and sex life.
There are behavioural as well as biological relations between your feet and sex. In fact you could be unconsciously flirting with your feet. Studies have revealed that a woman attracted to a man is likely to move her feet away from the body which makes it into a much more open stance. So, men should not only look at women's feet for arousal, but also for signs whether they are interested or not.

If you find women sitting cross-legged or with her feet tucked under her body, it indicates that she is not into you. If you are a woman and want to know the signs in men's feet for their interest level in you, there is nothing in the foot position to suggest anything. Men tend to move their feet around a lot when nervous, which is different from what women do, i.e. keep them still.

Although it is common to be sexually aroused due to feet, in some cases it is particularly intense. This has been termed podophilia or foot fetishism. Feet and related objects such as shoes are of keen interest to people who fall in this category. Guess what popular director Quentin Tarantino, rapper and actor Ludacris and rocker Tommy Lee have in common? It is this fetish called podophilia.
Are big feet a sign of big penis in men?

It is one of the beliefs associated with men that have large feet. There have been some very tall men, football players and self-doubting journalism students who have claimed that their big size of feet show that they are better endowed than normal people. As far as scientific evaluation is concerned, there have been no such association found in a number of researches carried out over a period of last 2 decades.

It has led to ridiculous attempts by men having small feet to buy shoes larger than their size, so that they are not assumed to be any lesser. They can stop worrying and retort to anyone who pretends to know better and allude to them saying that they are any less endowed than normal men. You don't wear shoes in your penis! Do you?
Read more articles on Sex Education