Nothing can be more refreshing than biting into a juicy fruit like muskmelon. Not only the fruit, its seeds are also meant to be eaten and not discarded.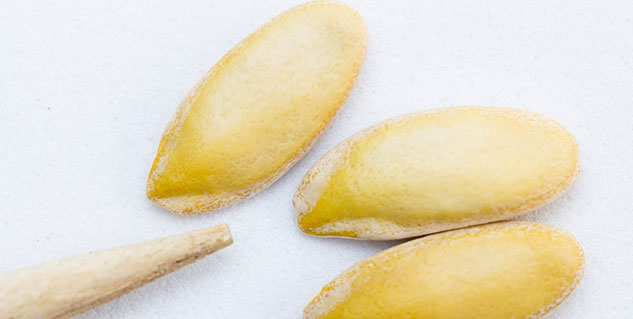 Muskmelon seeds are laden with micronutrients such as selenium, potassium, copper and zinc. These micronutrients are hard to get by from your daily diet in adequate quantities. Apart from keeping your heart healthy, boosting immunity and keeping blood sugar levels in check, muskmelon seeds offer amazing benefits.
Weight loss
You don't need to scoop out the seeds of the fruit and throw them away. Loaded with fibre, consuming these seeds will help you in weight loss.
Excellent sources of protein
Muskmelon seeds are excellent sources of plant-based protein. According to a study published in the World Applied Sciences Journal, muskmelon seeds contain nutritional content the same as in soy milk.
Loaded with antioxidants, vitamins A, C, and E
Loaded with antioxidants, vitamins A, C, and E, muskmelon seeds, prevent macular degeneration in the eyes. The presence of antioxidants in the seeds keeps your blood cholesterol levels under check besides decreasing risk of cancer.
The seeds also have vitamin C which is quite effective in fighting off cold and flu by boosting immune system. Owing to its minerals such as magnesium, phosphorous, and potassium in plenty, muskmelon seeds will regulate blood pressure. Consumption of muskmelon seeds will also improve bone density and decrease chances of developing Type 2 diabetes.
Keeps heart healthy
Muskmelon seeds provide omega-3 fatty acids which are known to aid your cardiovascular function and play a key role in fighting cardiovascular diseases.
Promotes hair and nail health
If you lack a healthy growth of hair or have weak nails, consuming muskmelon seeds can be helpful because of their high protein content.
Colon cleanser
Muskmelon seeds aid the body in cleansing by expelling intestinal worms. Consumption of these seeds flushes out excess phlegm from the body and rids of congestion.
Seeds are healthy, edible and yummy. Eating just the flesh of the fruit is a wasteful idea. Next time you eat a fruit or a vegetable, remember to eat its seeds as well. Chucking them away means throwing away a lot of goodness and health.
Image: Pixabay