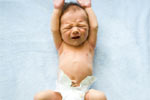 The series of 5 papers in Lancent checks the progress of newborn survival and the highlights the hurdles faced in increasing the rate.
A series of 5 papers published in the leading medical journal Lancent checks the till date progress made in newborn survival and the challenges that are being faced in increasing the survival rate across the globe. According to the series, targets have been set which are to be achieved by 2030 to make sure that each and every newborn gets a healthy start to their life.

Over 54 experts from 28 institutions situated in 17 countries conducted the research which has laid a foundation for the upcoming Every Newborn Action Plan. The plan is an evidence-based roadmap to provide proper care to every woman and let each child have a healthy start to their lives.

According to reports published in the Every NewBorn Series almost 5.5 million newborn and stillborn children who die every year are not registered officially.

According to the authors of the series, when the deaths are not registered, it contributes in slowing down the progress to eradicate newborn mortality.

The vice president of Clinical Quality at the Royal College of Obstetricians and Gynaecologist (RCOG), Professor Alan Cameron said "the causes of neonatal death and stillbirth globally are multifactorial and also include social factors such as education, sanitation, improved nutrition and political will. However, access to healthcare is of extreme importance and while maternal
mortality rates have been improving across the globe, more needs to be done to improve the lives of newborns.

"Better systems are urgently needed to record these deaths and once these are in place, measures can be taken to reduce these high figures.

"In the UK stillbirth rates are still high and as a College we are committed to addressing this. We plan to start a project particularly studying term intrapartum deaths, early neonatal deaths in term infants and we will also examine the circumstances of those babies who subsequently develop long term problems such as cerebral palsy. The aim of this project is to study potential lessons to be learned surrounding the management of labour and delivery of these babies and ultimately aim to reduce these events.

"Any death of a baby is a tragedy and there needs to be more investment and research into preventing these often avoidable deaths."
Image courtesy: Getty Images
News source: healthcanal.com
Read more on Health News.