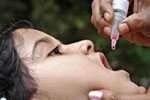 India is now polio-free as Pakistan's strugle continues. President Pranab Mukherjee says India should now assist Pakistan in their fight against Polio.
World Health Organization officially certified 11 South East Asian countries as Polio Free including India.
This can be considered a big win for Indian health care sector as India has been fighting against Polio to achieve the status of being a "Polio Free Nation" since long. Untill 2009, India accounted for half of all Polio cases globally so this certification confirms biggest victory for the Indian health care sector.
The list of 11 Nations does not include names of Afghanistan and Pakistan. So as 80 percent world's population now live in Polio Free Nations, Pakistan and Afghanistan's struggle against Polio continues. It's a hard road ahead of Pakistan as officials working on polio vaccination are being killed by Taliban making the goal harder to achieve.
Indian President Pranab Mukherjee said that India being declared "polio-free" is a "landmark achievement" and India should now help Pakistan, Afghanistan and Nigeria in there fight against Polio.
While inaugurating the Polio Free Conclave 2014, Mr. Mukherjee said, "India must assist other countries such as Pakistan, Nigeria and Afghanistan in their fight against this disease by improving their health systems and infrastructure".
Read More at India's Win Over Polio
Image courtesy: chai-india.org
Read more Health News.