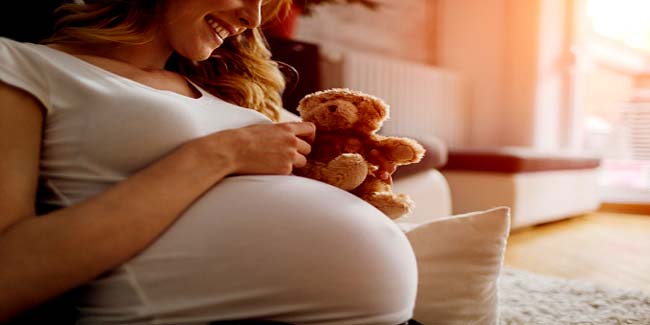 Your pregnancy has now reached its third trimester. It is time to decide about the hospitalisation for delivery and take care for the rest of pregnancy.
Your pregnancy week by week development is in its last phase. You have entered your last trimester and gained 25 to 30 pounds. Your baby would also start to gain weight to prepare for birth. There are some women who gain 1 pound each week throughout pregnancy. Half of this goes to the baby during the last weeks. You need to stick to the schedule of healthy small meals throughout the day and following the routine recommended by your doctor.
Symptoms of Pregnancy Week 33 – What to Expect?


Your uterus is around 5 inches away from the belly button.
Your weight gain is from 22 to 28 pounds.
Your baby will move a lot more as there is still space in the uterus.
Baby kick counts would be 10 every two hours.
You feel trouble in walking, sitting, sleeping and breathing as the uterus is being pushed up.
[Read: Pregnancy Week 32]
Trouble in breathing will make you uncomfortable.
You will begin to urinate more often.
The baby hiccups can be felt more often.
You baby will start to go down but they can still turn back.
Baby's Development in Pregnancy Week 33


Baby weighs around 5 pounds and is between 15 and 17 inches in length.
Baby fat is growing to finally settle under baby's skin.
Baby's bones have become hard but the skull still has soft spots which are needed for delivery.
[Read: Pregnancy Week 34]
Baby's lungs have developed and instances of multiple births often occur at this stage and even one baby if delivered could survive with intensive care.
Your baby should be in a position of head down at pregnancy week 33. If such is not the case, there is still time; no cause for concern.
Advice for Pregnancy Week 33


Sleep on your left side with a pillow between your legs and never on your back as it makes breathing difficult. The left side posture helps to maintain the blood flow.
Wear clothing that fit loose.
If the baby kick counts seem to be less than 10 every 2 hours, consult with the doctor, even though it may not mean anything.
Learn about the Kegel Exercises which strengthen the pelvic muscles. Your doctor can give you a list of exercises.
Make preparations for the delivery at a hospital of your choice if not done already.
Image Source:Getty
Read more articles on Pregnancy Week by Week.