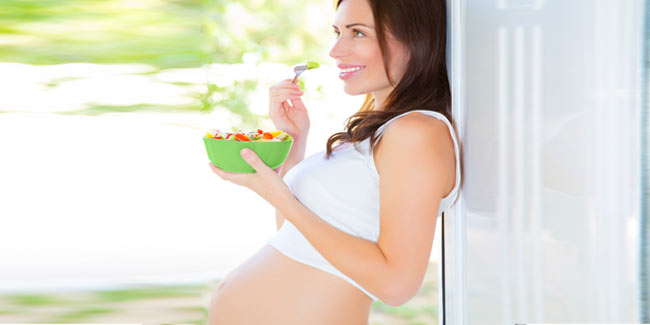 Expectant mothers must realise the importance of diet and nutrition for a healthy delivery. Discover some of the important foods to gorge at, here.
Does pregnancy diet really mean eating for two or does a pregnancy diet chart encompass food options on the basis of weight, food cravings, nutritional safety and complications such as morning sickness?Let's find out.
There are innumerable presumptions about healthy diet plan during pregnancy. An apt pregnancy diet plan ascertains healthy childbirth and postpartum weight loss.

Eating safe and healthy is important in all the phases of the pregnancy term. Nutrition experts advise structuring a pregnancy diet chart to help expectant mothers receive adequate nutrition for themselves and their unborn baby.

Pregnancy Diet Chart
Requirements of every pregnant woman vary from others to a certain degree. It is owing to this that a pregnancy diet chart is prepared after accounting daily routine and requirements of pregnant mothers. The requirements of working expectant mothers is different from non-working expectant mothers and they will have more 'on the go' food options for the right supply of nutrition during pregnancy. In a nutshell, the purpose of following a pregnancy diet chart is to ensure that the expectant mother receives essential nutrition during her pregnancy term.

The pregnancy diet chart is structured with the below mentioned food options:
Dairy product

s: Milk (skimmed), yoghurt and other dairy products fulfil the requirement of calcium, protein and Vitamin B-12. If, however, a woman is lactose intolerant, dairy products are excluded from the pregnancy diet..

Protein sources

: Whole grains, cereals, pulses and nuts are excellent sources of protein. Steaks can be a suitable alternative.

Fruits and vegetables

: These are good sources of vitamins, minerals and fibre.

Meat, fish and poultry

: Concentrated proteins are an important part of a pregnancy diet, which are provided by these foods.

Water and other fluids

: Water, fresh fruit juices and other fluids are recommended.

Vegetable oils

: Vegetable oils, the source of unsaturated fat, are also an integral part of pregnancy diet.

Folic acid

: Nutrition experts recommend folic acid as a supplement until the 12th week of pregnancy. Folic acid provides vitamin B to the expectant mother, deficiency of which may cause neural tube birth defects such as spina bifida.

Iron intake

: Iron is another important supplement. A health care provider examines your iron levels regularly during pregnancy term and advises on the amount of iron intake. Iron consumption is combined with vitamin C.

A good way to ensure that you are eating healthy during pregnancy is to abstain from processed and fast food. Such foods will just stuff you with empty calories, not the much-needed nutrients.
Read more articles on Pregnancy Diet.