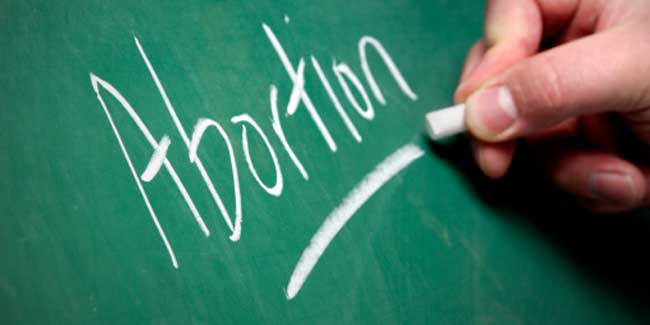 Pregnancy can occur after abortion in some cases. Therefore, it becomes of utmost importance to be aware of all the symptoms of abortion so that immediate attention can be given. You can take help from this guide.
An abortion done because of any reason leaves a woman's mind bombarded with a zillion questions, the most common of which remains about her prospects of getting pregnant again. A weak body which has gone through so many changes definitely has a weak mind which can easily be left wondering about many things. One of the very first questions to hit a woman is that is it possible to get pregnant after an abortion from the sperm that has already been there in the body 8 days before the abortion and if yes, what can be the signs of pregnancy after abortion. Here we offer help for your queries.
The Chances
There are very slim chances of a woman getting pregnant after an abortion with the sperm that has been in the body 8 days before the abortion. It is because the life of a sperm is less than an hour inside the vagina. Those which manage to survive beyond that do not last longer than five days in the uterus.

Yet, pregnancy can take place in the weeks after abortion only if they are sexually active after their abortion. Following abortion if there is an intercourse in which the semen enters the vagina, there are high chances of a woman getting pregnant. Therefore, it is always advisable to use protection method to avoid pregnancy right after abortion.
Things to Take Care Post-Abortion
It takes at least 1-3 weeks to heal and feel better after an abortion. Thus, it is recommended to avoid sex during this time. Even after a person starts having sex, they must use condoms for several weeks.
Symptoms of Abortion
Losing an unborn child once can be traumatic enough. Thus, for any woman it is important to keep a check on symptoms of abortion which can be hazardous for her in the next pregnancy. The normal symptoms of abortion can include irregular bleeding or spotting which can last for three weeks, cramping which occurs in the first two weeks, menstrual cramping for up to 6 weeks and varying emotional reactions for 2-3 weeks.
When to See a Doctor
As soon as you see the following symptoms you must rush to a health care provider
Severe bleeding which includes passing large blood clots for more than 2 hours
Soaking of 2 sanitary pads in a couple of hours
Bleeding heavily for over 12 hours
Symptoms of infection like headaches, muscle aches, dizziness or a feeling of bad health
Vomiting that continues for over 4-6 hours
Abrupt swelling
Rapid heart rate
Losing pregnancy can be devastating for a woman, emotionally and physically. Thus, it is important to stay aware of the symptoms of abortion after getting pregnant the second time.
Image courtesy: Getty Images
Read more on Abortion.