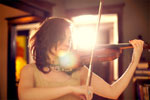 Stroke patients can now recover faster and better by learning to play music instruments.
Experts of Goldsmiths, University of London, said that stroke victims can recover earlier if they take up learning a music instrument. Dr Lauren Stewart from the music, mind and brain team that is based in Goldsmith's Department of Psychology, said that even after a good deal of research into rehabilitation approaches, the treatment options that are available were limited.
The small study examined spatial awareness of patients before as well as after four sessions with a music therapist as well as structured homework, which was finished twice a day. The authors pointed out those people who are recovering from "neglect" i.e. when damage to one side of the brain is suffered following a stroke causing spatial awareness issues on the opposite side of the patient's body can benefit from such treatment options.

The researchers examined two patients who were taught to play chime bars. As the patients improved, the team of researchers increase the distance between chime bars so as to encourage the patients to play further into the left side of space. After the sessions, the authors said that both the participants showed a lot of improvement in clinical tests for "neglect".

Dr. Lauren said, "It would be great to invite more patients to participate in future studies, as well as see if the music intervention has the capacity to translate to improvements in everyday tasks".

The research team is currently planning to expand this small study into a formal clinical trial so as to determine the complete impact of the intervention.
Article source: yahoo news
Image source: getty
Read more Health News.