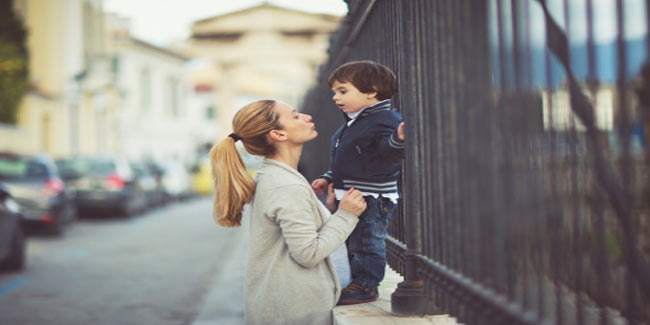 Sorrow can haunt any family at any time, and the reasons for it could be many. If you have a child during such a situation, how would you go about parenting?
The picture of grief is a picture of truth; human suffering is the ultimate truth of life, while happiness is momentary. In what way can you help your little child when your family is going through a rough patch?

Every family in some point will have to face a crisis, and sure enough it could be a difficult time. It could be the death of a dear one, it could be illness, it could be divorce or financial hardship, and in other words, it could be more or less anything. When we have children in the family it can get especially distressing, it could mean that we have to take special care of our children and of ourselves for the sake of the children. As parents it could be one of the most challenging things. How can you possibly keep a straight face during times of hardship? How can you possibly make everything all right when in reality things are getting really bad? Understand the art of parenting in depth, so that you can move past skillfully through those tough times.




Do not Hide your Feelings
As parents we are always trying to protect our children from the harsh realities of the world, and we are always doing our best to shield them. But this is not helping them much. Life is not just a bundle of joy; it is a mixture of pain, hurt, disappointment, anguish, along with the happiness. You ought to show them how to deal with loses, as they need the desired practice for the same. We have to show them that there is nothing wrong in being hurt, instead of brushing these feelings aside they need to develop empathy and understanding of the world.


Understand your Child
The best way to help your child is to get inside your child's mind. In a given situation two people would think in two different ways and hence before helping out your child understand your child. Figure out what you child is experiencing and then you should reach out a helping hand accordingly, a wrong decision taken will bounce back and will become an awkward situation. Therefore, at the very start you should understand your child's mental state.




Self Care
It is very important for you to take care of yourself before you begin to help your child. You will find it hard to practice good parenting if you are not fit mentally and physically. A fatigued, anxious, stressed and depressed parent is of no good. The only way for you to feel better is by letting it out, and this is why you should confide in a friend, escape to someplace with a book to read and help yourself so that you can help your child.


Give it Time
A tough patch can be very disheartening, but you need to understand that it will take time for you and your family to get back to normality. This is why you are advised not to rush into anything, because such things take time, and only with time will you, your child and the rest of your family will be able to recover from the rough patch. All the while you should try your best to get past the episode by working persistently towards your child's emotional development.

If you think that matters are going out of hand and worse, then you could also take help from an a professional who would be able to understand your child better.

Read more on Parenting Tips.