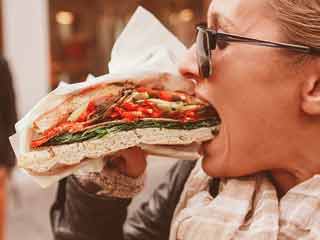 Sandwiches are sure tasty, but just one a day can provide you with 20% of your daily sodium requirement. Each sandwich provides 21% of the sodium in men's diets and 16% of the sodium in women's diets, a new study reports.
Almost half of all Americans have at least one sandwich on any given day which supplies 21% of the sodium requirement in men's diets and 16% in women's diets, researchers have analysed. This accounts for one-fifth of their total daily intake sodium intake.


Men are supposed to take 2300 mg of sodium a day, as recommended by the 2010 Dietary Guidelines for America. When a man eats a sandwich, he gets 902 mg of sodium from it. If the man is above 50 years of age, this amount equals to a whopping 60% of the upper limit of 1500 mg recommended for the group. This figure also holds true for men who are African American, have diabetes, hypertension, or chronic kidney disease.

Women get less sodium from a sandwich, 489 mg a day, but this still needs to be considered, explains Rhonda S Sebastian (Food Surveys Research Group, Beltsville Human Nutrition Research Center, MD).

The findings emphasize that "paying attention to sandwiches can make a difference in reducing sodium intake [so that it is closer to] recommended levels . . . [which] is important because of the relationship between sodium and blood pressure," Sebastian commented.

She also noted that the 2010 guidelines state that "'keeping blood pressure in the normal range reduces an individual's risk of cardiovascular disease, congestive heart failure, and kidney disease. Therefore, adults and children should limit their intake of sodium.'"

The study found that, for adults, sandwiches alone contribute 30 per cent of the less restrictive guideline and 46 per cent of the stricter guideline.

Researchers also found that people who ate sandwiches had significantly higher energy intakes than those who did not.
Those who consumed a sandwich on the survey day took in, on average, around 300 kilocalories more than those who did not report eating a sandwich.

The study, based on self-reported replies to the 2009–2010 "What We Eat in America: National Health and Nutrition Examination Survey," was published online in the Journal of the Academy of Nutrition and Dietetics.

Source: Medscape.com

Image: Getty

Read more Health News.