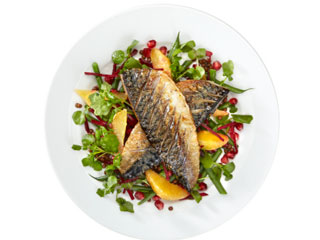 According to a new study, eating fish and soaking up some sun can protect one's brain against damage.
According to a new study, eating fish and soaking up some sun can protect one's brain against damage. The scientists said that omega-3 fatty acids as well as vitamin D can help in reducing symptoms of a variety of brain disorders by controlling the happy hormones, called serotonin.

In a earlier study, the researchers had found that vitamin D is responsible for regulating conversion of the essential amino acid tryptophan into serotonin. And this is likely to influence development of autism, especially in those children who have poor levels of vitamin D.

Serotonin influences different cognitive functions and behaviours such as mood, social behaviour, decision-making, etc by keeping a check on one's aggressive social responses or impulsive behaviour.

Rhode P Patrick, from Children's Hospital Oakland Research Institute said, "In this paper we explain how serotonin is a critical modulator of executive function, impulse control, sensory gating, and pro-social behaviour".

He added that they linked serotonin production as well as function to omega-3 fatty acids and vitamin D, thus suggesting that these important macronutrients can help the brain to function as well as affect the way one behaves.

Elcosapentaenoic acid increases the level of serotonin release from presynaptic neurons by reducing the inflammatory signalling molecules in the brain known as E2 series prostaglandis, which inhibit serotonin release.

EPA is, however, not the only ome-3 that plays an important role in serotonin pathway.

Docosahexanenoic acid is also responsible for influencing the actions of different serotonin receptors by making them more accessible to serotonin. This they do by increasing the cell membrane fluidity in postsynaptic neurons.

The study puts light on the mechanistic links that that describe why vitamin D, which is commonly produced by the skin when it is exposed to the sun. The marine omega-3 deficiencies tend to interact with genetic pathway, such as serotonin pathway, that are required for the development of the brain, decision-making, social cognition and how gene-micronutrient interactions can influence neuropsychiatric results.

Therefore, if one optimises the level of vitamin D, EPA and DHA levels, the brain serotonin can be influenced, which can thereby prevent symptoms of the disorders without causing any side-effects.
Read more Health News.