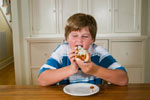 Obese children and adoloscents have a higher risk of suffering from diabetes and high blood pressure.
Diseases like diabetes as well as high blood pressure that people always thought were common only among adults can now be found to affect even the lives of young children. The researchers compared composition of fat cell and biology in lean as well as obese children and adolescents.
The study found that obese kids are more vulnerable to these diseases; such a conclusion was drawn when the researchers found that when a child became obese, beginning as early as at the age of 6 years, there was an increase in the number of adipose cells, also called fat cells.

These fat cells were seen to be larger in size than the cells in the bodies of lean children.

Obese children tend to have not more cells but also fatter varieties at a really young age. And, this is linked to increased inflammation and impaired metabolic function.

The researchers had also found evidence of dysfunction of the fat cells in obese children, which can lead to diabetes, insulin resistance as well as other problems such as high blood pressure.

Article source: Times of India
Image courtesy: Getty Images
Read more Health News.