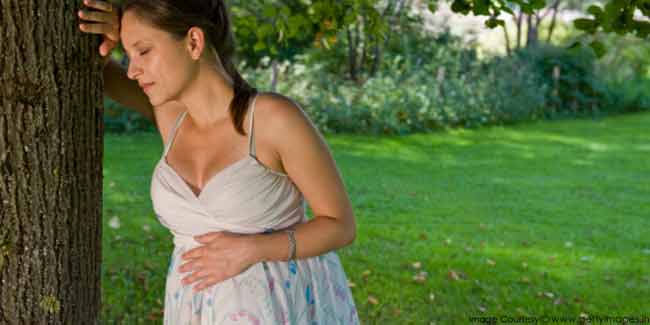 A woman in her 9th week of pregnancy undergoes specific behavioural, physical and psychological changes. Read to know about the some of the common symptoms during the 9th week of the pregnancy.
It is important to understand the signs of pregnancy in the 9th week as these symptoms are often misjudged as other medical conditions.

A pregnant woman undergoes several body changes in the 9th week, which can be seen or felt through various signs and symptoms. It is the 9th week of pregnancy when the foetal development is most evident. Pregnancy symptoms of the 9th week may be surprising for you but if you are prepared for it in advance, you can adapt to these changes very easily.
Physical Changes
It is during the 9th week that a woman begins to gain weight. By the 9th week, expecting mother may have to deal with bodily discomforts. She may also experience gastrointestinal problems such as heartburns, acidity and may find it difficult to lie on her back. To ease out this problem, doctors advice lying on the side and prop a pillow within the thighs for comfort.
Embryo Development
The development of the baby becomes visible during this week, causing some discomfort to the pregnant woman. At this stage, ultrasound shows baby's tiny fingers and toes with the limbs and legs beginning to form. The eyelids of the baby during the week 9 are shut. Moreover, the formation of the genitals in the ninth week of pregnancy is normal, but cannot be spotted on a sonogram.
Spotting
An expecting mother may experience spotting during the ninth week of pregnancy and the blood may appear dark. If blood becomes bright red, a doctor must be consulted immediately.
Oral Problems
Pregnancy may lead to oral problems, which include gum diseases and tooth decay. Moreover, premature births are linked to periodontal diseases caused by chronic infection of the gums. Therefore, it is important to maintain proper oral hygiene during pregnancy. Prenatal vitamins and calcium supplements are advisable for women suffering with gum problems to prevent dental concerns.
Stretch Marks
A woman may develop stretch marks around her abdomen, breasts and buttocks, but these marks fade away after pregnancy.
Low Sex Drive
A woman in her ninth week of pregnancy experience low sex drive, although the sexual desires are revived when she enters the second trimester.
Women in their ninth week of pregnancy are advised not to get worried about the above mentioned symptoms, as foetal development keeps on changing every week. They must continue with the pregnancy diet and fitness plan, although, the progress of the pregnancy must be reported to a doctor on a week by week basis. .
Read more articles on Pregnancy Symptoms.