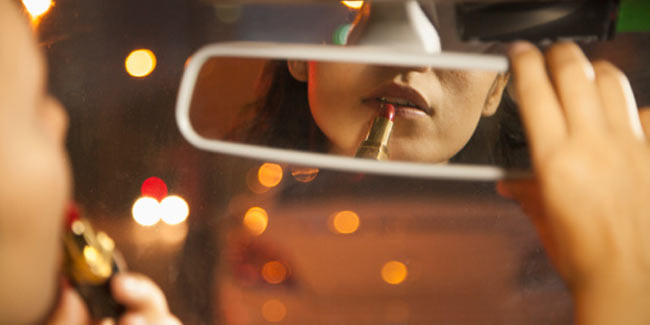 While doing your makeup for evenings, focus on only one feature of your face and do everything you can to accentuate this feature.
All women know that on some nights, it just gets difficult to cut it with the same eye shadow and liner. What can we do on such nights when we have to look good and can't manage with what we have? Let's find out.
While doing your makeup for evenings do, it is important to focus on only one feature of your face. Accentuate your best feature by focusing on it with some flattering makeup, either your eyes can be the stunner or your lips.
Glossy Eyelids
Prepping up the eyes for an evening out has never been this easy. All you have to do is smoothen petroleum jelly or clear, non-sticky lip balm on the eyelids. If you want to get a little more adventurous, dab a light shade of pink lip gloss and give your eyes a rosy, romantic appeal. Eyes can also be accentuated with kohl, volumising mascara, and eyeliner. Use shimmering eye shadow if your focus is your eyes.
Lips
Lips can be defined with help of a lip liner and a luscious lipshade which can be a sassy red or deep plum. Top it up with some gloss and your lips are done for the night. Please ensure when your eyes are the focus of makeup, you should keep your lip colour of a neutral shade. And when the focus is on your lips, keep the makeup on your eyes bare minimum with some kajal and plain mascara.
Glowing Cheeks
Use blush on the apples of your cheeks to lend a glow to your face. Use of foundation is a must to even out your complexion. Do not forget to apply foundation on your neck as not applying will show the difference in skin tone between the neck and the face. Never go overboard with makeup and use sparingly.
Cat-eyes
If the lenses of your eyes are naturally of another colour i.e. other than black, you can accentuate your cat-eyes with just an eye pencil. Sounds beyond belief? Well, it is really not that difficult. Apply lots of pencil liner into the roots of the lashes and wing it out a bit. Now, finish it up with lots of mascara. You've got the look!
Rimmed Eyes
Rimmed eyes give the impression that you are a mysterious lady. So, apply tons of jet-black liner all the way around the inner rim of your eyelids. You will present yourself with an alluring look when you are applied a thick layer of the liner. Waterproof liner would work the best for you because for rimmed eyes, you would be working with the wet line of the eye.

You can experiment with a lot of makeup techniques more at night than in the morning because artificial lighting would highlight your best and shadow the worst.
Read more on Eye Make-up.