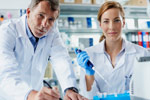 At a time when researchers around the world are fighting against the antibiotic-resistant bacteria, a Candian study has something new to offer. A new molecule that could fight it.
Canadian scientists have now identified a small molecule which would prevent the bacteria from forming into biofilms which is a frequent cause for infections. This here is another attempt to join the global fight against antibiotic resistant bacteria.

This anti biofilm peptide is good for a range of bacteria which includes many that cannot be treated by antibiotics.

Bob Hancock, the professor from University of British Columbia said in a statement, "Currently there is a severe problem with antibiotic-resistant organisms. Our entire arsenal of antibiotics is gradually losing effectiveness." Professor Hancock and his colleagues found out in the study that the peptide known as 1018 which consisted of 12 amino acids which are the building blocks of protein could actually destroy biofilms and also prevented them from forming. Bacteria are separated into two classes, namely Gram-positives and Gram-negatives and the peptide 1018 on both classes of bacteria as well as major antibiotic-resistant pathogens including what we call Pseudomonas aeruginosa, E coli and MRSA.

Hancock also said, "Antibiotics are the most successful medicine on the planet. The lack of effective antibiotics would lead to profound difficulties with major surgeries, some chemotherapy treatments, transplants and even minor injuries."

He added saying that it would be their strategy to represent a significant advance in the search for new agents that would specifically target the bacterial biofilms. Bacteria growing on the skin, lung, and also other such human tissue surfaces form biofilms which is a highly structured communities of bacteria, and these are responsible for two-thirds of all the human infections.

The study that was published in the journal PLOS Pathogens also said that there is no treatment for biofilm infections currently and bacteria found in biofilms are considerably more resistant to standard antibiotics.

News Source: business-standard.com

Image Source: gettyimages.in

Read more on Health News.