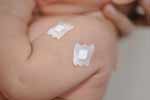 Researchers have identified a substance that they say could be a potential vaccine candidate for malaria.
Malaria vaccine has been an area of intensive research. Now, researchers have identified a substance that they say could be a potential vaccine candidate for malaria.

Malaria is a life-threatening disease caused by Plasmodium parasites transmitted to humans from the bites of infected Anopheles mosquitoes. The most harmful parasite is Plasmodium falciparum. In 2012, malaria was responsible for around 627,000 deaths worldwide, of which 460,000 occurred among African children under the age of 5 years.


Blood from a rare group of children from Tanzania, found to be naturally immune to malaria have now helped scientists take a giant leap in developing a vaccine against malaria.

After analyzing blood samples from 1,000 Tanzanian toddlers, researchers from Brown University's medical school discovered 6 percent of those children produce an antibody that attacks the malaria-causing parasite and makes the children immune to the disease.

Scientists say these unique antibodies essentially trap the malaria parasite in red blood cells during a key stage in its life cycle. This prevents the parasite from bursting out and spreading throughout the host's body.

In addition, the researchers from Rhode Island Hospital, the National Institutes of Health, Harvard Medical School, and the University of Washington found that the same antibodies were present in the blood of Kenyan teenagers who also had natural protection against the disease.

This led to the development of the primary vaccine PfSEA-1 which disrupts the life cycle of the Plasmodium parasites, trapping them inside red blood cells and preventing them from spreading.

The vaccine takes a new approach to tackling the disease. Other potential vaccines try to stop the parasites entering the red blood cells - an earlier stage of the Plasmodium life cycle.

Further tests on the antigen revealed that it stops a malaria parasite from leaving one red blood cell to occupy another. This is a notable finding, according to study co-author Dr. Jonathan Kurtis, director of the Center for International Health Research at Rhode Island Hospital. He explains:

"Many researchers are trying to find ways to develop a malaria vaccine by preventing the parasite from entering the red blood cell, and here we found a way to block it from leaving the cell once it has entered. If it's trapped in the red blood cell, it can't go anywhere - it can't do any further damage."

Dr Kurtis said "PfSEA-1 was discovered by starting with naturally occurring protective human immune responses. Using molecular gymnastics, we identified parasite proteins that are only recognized by antibodies in children who were resistant to malaria but not by antibodies in susceptible children. We subsequently demonstrated that vaccination with one of these proteins, SEA-1 could protect mice from a lethal malaria infection. More importantly, in our cohort of over 750 children, kids who made antibodies to PfSEA-1 did not develop severe malaria, while children without these antibodies were susceptible to this severe complication".

"PfSEA-1 is essential to allow the parasite to escape from one infected red blood cell and infect additional blood cells. This cycle of expansion in red blood cells is critical for parasite survival and is the key process that leads to morbidity and mortality in humans. Using molecular techniques, we decreased the amount of PfSEA-1 that parasites could produce and demonstrated that these altered parasites had a significant growth defect. More importantly, antibodies to PfSEAs prevent the parasites from escaping from red blood cells, presumably by interfering with the function of PfSEA-1".

Source: TOI
Image Source: Getty

Read more Health News.