Scared to talk dirty to your partner and need some help? Try these naughty texting games to have fun all night long and easily initiate some dirty talks with your love.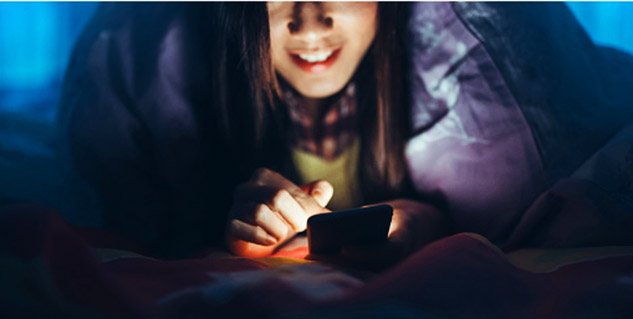 It often happens in a new relationship when both the partners run out of things to discuss on phone. Texting makes your job a lot easier and exciting while helping you and your partner to get rid of your inhibitions. Texting makes it simpler to initiate naughty talks with your partner and continue them than talking dirty over a phone and feeling embarrassed as soon as you put down the phone.

If you guys have been on for a few dates and want to take your relationship to the next level that is seduction and romance, then you should take help of naughty texting games given here. You tend to enjoy these games and have fun all night long while chatting with your partner.
Game 1: Play it safe!

Just started off a new relationship and want to build some sexual tension? You will be apprehensive about how to make your partner open about his/her sexual desires. Play 'play it safe' to break the ice and encourage your partner to participate in your 'naughty sex talks'. Start off by asking "Would you come over here as my roommate is out of town rather than going out for a movie?" You may find your partner at ease as the game progresses and can gradually adrift your conversation and get intimate when you find an opportunity to.
Game 2: Complete the Sentence

It is yet another master stroke to encourage your partner to revert naughty answers. Text an incomplete sentence to your date and ask him/her to complete it. Ask "if you are alone with me, you would ___________". The answer will indicate if your partner is comfortable talking naughty things and are open to your flirtatious acts. If your partner text you back incomplete sentences, put something that will continue your conversation. Carry on this game for a few minutes and soon things will become exciting and impish.
Game 3: SMS sex

It isn't much different from phone sex, but yes voices and ooh-aah sounds are obviously missing. Don't reveal to your partner about this game and start it off as a regular conversation. Begin with "what are you wearing?" Watch how your partner reverts and gradually take things forward. With each new text, turn to sex related questions and soon the conversation would become arousing and exciting.
Game 4: Confess it baby!

It's time to unveil your darkest sides and also to discover your partner's dark secrets as well. Start off with general questions such as "have you ever lied to your parents to stay over at your friend's place?" and drift away to sex and romance related questions. Your questions shouldn't be straight and a little naughtiness will keep your partner's interest alive in the texting game. Your first naughty question could be "Are you a sex freak?" He/she would obviously reply with a NO. So ask them "Are you lying to me?" You phone will beep again with a big NO, but do not end the topic here and continue with "Ok, so do you think sex is important in a relationship?" Eventually the game will become fun and help you have a better understanding of each other.
Game 5: Dare it or remove it!

The naughtiest game that couples enjoy the most and find themselves a little closer to each other after this game ends. Ask your partner how may clothes he/she is wearing. You will have to text a dare to your partner. The partner has to complete the dare or answer it honestly. If he/she fails to accomplish the dare, ask them to remove a piece of their clothing every time they fail. To ensure that your partner is executing the tasks given to them, ask them to click pictures and send them to you. Although, delete the pictures as soon as you're over with your game.


Try playing any of these naughty texting games to make your relationship kinkier and better. These games will help you do away with apprehensions and anxiety related to sex and romance in a new relationship.
Image: Getty

Read more articles on Sex and Relationships.