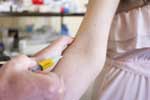 There are a lot of myths related to flu that we fall for. Bust some of the most common ones with the help of information from the Centers for Disease Control and Prevention.
Myths related to the flu vaccine can easily mislead people who are trying to decide whether they should get a shot or not. Below mentioned are few of the most common myths associated with it according to information given by the Centers for Disease Control and Prevention.
Flu Shot can give you Flu
The CDC says otherwise. The viruses that are present in the flu shots are killed right at the time of the vaccine's production, implying that they cannot cause an infection. Later the vaccine batches are tested with a group of people who are randomly assigned to get either salt water or the vaccine.

A lot of people feel worse emotionally after they have got a flu shot because of the soreness at the site of injection. This soreness usually dissipates within the next two days of getting a flu shot. It is important to understand that the soreness is caused by the immune system that is making antibodies to the killed viruses in the vaccine that help a person fight the flu off.
It is Better to Get the Flu when the Flu Season is at its Peak than now as its Efficiency will Wane
A vaccine shot lasts the entire season the flu lasts, except in the cases of some children who many need to be given two doses of the vaccine. The Centers for Disease Control and Prevention recommends that people who are older than 6 months get a flu vaccine.
Flu Shot may affect the Pregnancy to a Great Extent
The American College of Obstetricians and Gynaecologists says that the flu vaccine is an important element of prenatal care and all pregnant women must get a dose. Pregnant women are at a high risk for flu complications such as infections, dehydration and pneumonia. Considering that babies cannot receive the vaccination till the time they are 6 months old, the antibodies that they received in the utero from the mother can help them protect themselves.


Read more Health News.