If your sex life is on a downturn or you simply long for the heated passion of your earlier days with your partner, trying out new sex positions can help. Fire up the flames of passion with amazing sex positions for maintaining a healthy and satisfying sex life. These will perk up your pleasures like anything and make it all the more exciting.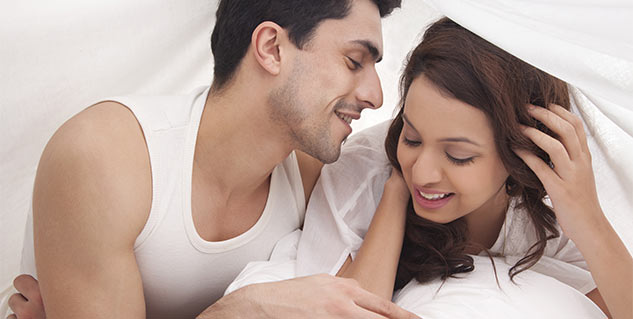 Take a look at the most pleasurable sex positions to beat boredom in the bedroom:
The sexy squat
You enjoy this position, you need to straddle your man lying on his back and gradually slip yourself onto his pelvis. Slowly, raise yourself of his thighs and be in a squatting position. You can now place your hands on his stomach, rib cage, thighs or upper chest for support. Start your thrusts now by lifting your lower body up and down.
[Read: Must try these hottest kamasutra positions]
Doggy style
This one is for those, who enjoy the animal inside them. Many guys like to fantasize taking their partner from behind as it gives them a powerful feeling. It may not be the most passionate position for women but men certainly like to indulge in it from time to time.
Chair action
This one involves sitting your man on a chair or the edge of the beds while, you sit on his lap facing him. Take his hands through the sexiest curves on your body. This would for sure stir up a storm in him and he would enter you with gusto. Being together would never feel so good.
Leg drape
You two should sit facing each other. Raise your leg and ask him to slide you towards him. Do this with both the legs. Drape your legs all around him so that you have the opportunity to push him in. If your legs are braced against a wall, it would further your plan of action.
[Read: Best Sex Positions for Conception]
Woman on top
It gives you the power to control your act. Your guy would also enjoy your moves. This brings the onus on to you for working hard, which is usually the guy's domain. The new experience can be tried every now and then to bring more zest to your love life.
Magic missionary
Have your man enter while, you lay on bed with legs apart. The real good part begins once your man is inside you. You should bring your legs together; make the guy hook his ankles around his calves, and finally raise himself on his back with a small angle at his back. He would appear like a frog, but what follows would make you feel of him a prince.
The passionate embrace
Just jump on to the lap of your guy, if he is sitting relaxed on the bed, and shower him with kisses. It is the best way to enjoy some passionate love making as he blows you away with wet kisses on your neck.
The sultry saddle
If you thought that all sex positions made your intercourse pleasurable, then trying out this position will change your thinking. This sideways sex is a great position in which he lies down and his knees are bent and legs apart. The female finds a place in the middle at right angles to his body. The woman places one hand on his chest and the other one on his lower leg and then moves back and forth till he hits the correct spot.
Standing up
Trying new sex positions is always healthy for the relationship. So, one of the best love making positions is the standing up position. The female faces and stands two feet away sticking her bum a little out. The man then penetrates with his knees a little bent.
The scissors
This is most pleasurable position for women and is very easy to perform. Lie down facing each other and the female places her one leg on top of his hip. He would then grab your bum and you place your arm around his waist and push out bottom leg against his leg.
The fan
In this position the woman stands with her back towards her partner. The woman bends her knees and rests them on the edge of a chair or a stool and then puts her arms in a cross position on the back of the chair or the stool to get a support. This position is best suited for people who like take control in the act or who want to have anal sex.
The eagle
In this position the woman is supposed to spread as high as possible. This position is mainly good for men who have a strong built.
Crossed keys
In the crossed key potion, the woman can lie with her behind on the edge of the bed. Her legs must be straight up and crossed. The man can stand in front of her and use his hands to cross and uncross her legs.
Tight squeeze
This position is for people who like to have some quick action. The man will face the woman while she is sitting on a high platform with her legs wrapped around him to get him closer.
The visitor
This one is for people who like some action outside the bedroom. However, to enjoy this position it is important for both the partners to be of same height. Stand face to face and enjoy the adventure.
Image courtesy: Shutterstock

Read more articles on Sex & Relationship.
For more such stories, Download Onlymyhealth App.