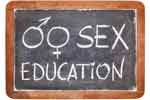 Sex Education is the best way to instill knowledge about sexuality in children and teenagers. A complete understanding how to go about it is very important.
Info
Sex education in schools can help children understand the impact of sex in their lives. It dispels myths related to sex and broadens their horizon. It can also answer all the questions that they have regarding their changing body and hormonal surges.
Children are often inquisitive about the other gender. Sex education in school can help understand the differences and keep the desire to explore things for themselves in check.

Myths
Sex Myth – A woman can prevent getting pregnant if the man pulls out before ejaculation during a sexual intercourse. Men have no means of knowing when the sperm laden semen is coming out.
Sex Myth – Oral sex is safer than vaginal sex. From teenagers to Bill Clinton, many seem to have this false notion. Not only does it count as sex, but can also lead to sexually transmitted diseases.

Consequences
The accidental pregnancy brought about on purpose - This may sound like a self-contradictory but can be understood if you observe certain situations. If one of the partners wants a child while the other does not, he or she can ignore to take steps that prevent pregnancy.
Despite the advanced contraception techniques, better sex education services, better knowledge on reproduction, the woman of this era is more prone to unplanned pregnancy than those of one or two generations back. Simply because we are having more sex!
Oral sex can cause sexually transmitted diseases and even HIV. Although the chance of HIV infection is little, there is a chance all the same!
HIV/AIDs is not the only sexually transmitted disease. It is only the most known because of its fatal effect. Gonorrhea, genital warts, genital herpes, chlamydia, chancroid and syphilis are some others that can result from casual unprotected sex.

Measures to control
It is very important to assess whether the mode of contraception you are considering would be comfortable enough for sustained usage. For example, you should not choose a method which is liable to cause any sort of irritation to you or your mate.
Convenience is another factor to be considered when assessing how to choose the right contraception method. You could end up committing blunders which could nullify the effect of the contraceptive tool altogether.