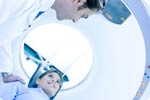 You probably already know about ways to manage the side effects of cancer treatment. If so, parts of this section will be a review for you. It outlines some of the support therapies cancer patients have found helpful.
Comfort Care

You have a right to comfort care both during and after treatment. This kind of care is often called palliative (PAL-ee-yuh-tiv) care. It includes treating or preventing cancer symptoms and the side effects caused by treatment. Comfort care can also mean getting help with emotional and spiritual problems during and after cancer treatment.

People once thought of palliative care as a way to comfort those dying of cancer. Doctors now offer this care to all cancer patients, beginning when the cancer is diagnosed. You should receive palliative care through treatment, survival, and advanced disease. Your oncologist may be able to help you. But a palliative care specialist may be the best person to treat some problems. Ask your doctor or nurse if there is a specialist you can go to.
"For me personally, the challenge is not to let the treatments get the best of me. I make sure if I have any new aches or pains I tell my doctor right away. He's great about working with me to handle these things." - Edna

Pain Control

Having cancer doesn't always mean that you'll have pain. But if you do, you shouldn't accept pain as normal. Your doctor can control pain with medicines and other treatments. Managing your pain helps you sleep and eat better. It makes it easier to enjoy your family and friends, and to focus on the things you enjoy.

Have regular talks with your health care team about your pain. Let them know what kind of pain it is, where it is, and how bad it is. These talks are important because pain can change throughout your illness. And your pain may show where cancer has returned after remission. Many hospitals have doctors who are experts in treating pain. Tell your doctor if you would like to talk to a pain specialist.

Treatments can be used for all types of pain, including:
Tingling and burning pain

There are different ways to take pain medicine, such as:
Through the skin (with a patch)

Your medicine, and how you take it, will depend on the type of pain and its cause. For example, for constant pain you may need a steady dose of medicine over a long period of time. You might use a patch placed on the skin or a slow-release pill.

You may want to keep a pain diary to help you explain your pain to your doctor. In the diary, write down:

* The time of day you had the pain
* What you were doing when you felt the pain
* What it felt like
* Where you felt it.

Your doctor may also ask you some questions about how your pain affects your daily routine
Controlling Pain: What To Tell Your Doctor
When describing pain to your doctor, give as much detail as you can. Your doctor may want to know:
Where exactly is your pain? Does it move from one spot to another?
How does the pain feel - dull, sharp, burning?
How often do you have pain?
How long does it last?
Does it occur at a certain time of day - morning, afternoon, night?
What makes the pain better? What makes it worse?
<...