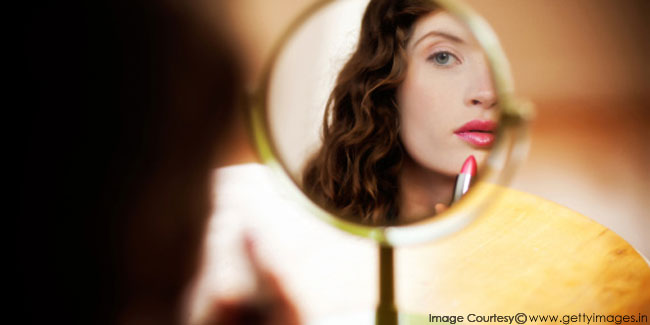 Pale skin can make you dull. So, here is your one magic wand that you had buried deep under the earth: make-up.
There is nothing more offensive than your friends telling you on a road trip that they haven't seen anyone as pale as you and that you may need medical help for acute deficiency of iron or haemoglobin or any of those medical jargons you would need a dummy's guide to help you understand.
Looking at the sun for a fashionable tan will get you nowhere because people with olive skin would get the tan close to what they desire only if they spend the whole of summer in the sun. You cannot afford that now, can you? Here is your one magic wand that you had buried deep under the earth: make-up.
Paint your Lips Soft
You have no idea how good crimson lips look on pale skin if you always tried only the reds and darker shades. Go for sandy pinks, soft apricots and rosy pinks to twirl those lips along an artistic foreplay. You will only be glad you took our advice. Here's a sneak peek into what your face will turn out into: a more beautiful face and even more beautiful lips.
Cool your Eyes
Pale and natural colours look amazing on pale skin. You may have heard that contrasts look tempting, but such is not so. Opt for colours like champagne, soft pinks, grays and even cool brown colours. These colours match well with the skin tone and will make your eyes pop out taking attention away from your skin's natural colour.
Blush Away
Blush is your best friend when you have a skin with no pink undertones. You must not, however, overdo the blush in lieu of looking naturally pink. Pick pale pinks, apricot and soft peaches as blush options to work great on your porcelain skin tone.
Nothing's Darker than Dark Lashes
Eyes will be your favourite parts of the face as you can leisurely throw dark colours at it without looking bad. Try investing in the blackest black of mascaras as it will add a dramatic look to your appearance. Avoid blue, plum, and soft black mascaras as they will only diminish the lashes.
Liners Dipped in Ink, ALWAYS
Liquid liners are darker than the pencil ones and are therefore, the best pick for someone with an olive skin tone. Not only will the liquid liner help you draw a straight line, but also make your eyes appear bigger and fuller. Remember that a liquid liner is good for any type of eye make-up but it will take a little practice before you get it right.
Keep Colours Warm
There is a world of options in terms of colour that you can use for your skin, but the key would be to use warm ones. Pick light pinks, peaches and soft honey as these will flatter your skin tone and keep it airy.


Read more articles on Face Make-up.