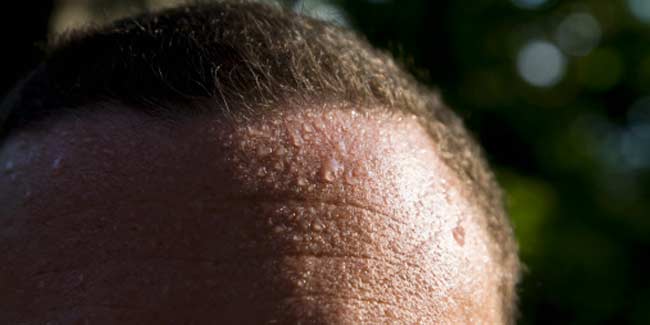 Hot flashes, we always thought, were a problem that only women had to deal with. Turns out, men are not far behind for this one.
Hot flashes have always been synonymously used with menopause in women, but turns out even men can experience it during their lifetime. A hotly debated reason for hot flashes in men is said to be dipping levels of potassium in the body. Let's find out if this is for real.
Hot flashes are a common and most prominent sign of menopause in women; now that men do not go through menopause, what could be the reason for them experiencing hot flashes? Lots of theories have it that hot flashes in men occur as a result of a dip in potassium levels. But, could that be true?

Low potassium is not likely to lead to hot flashes in men. In fact, such a symptom is associated exclusively with decline in female hormones in women, which affects the hypothalamus, a part of the brain that regulates body temperature. Men can also be exposed to waves of heat and the cause is said to be nothing even remotely related to potassium, but male sex hormones.
Drop in Testosterone Levels
At the age of 40, men tend to experience a steady drop in their testosterone levels by 1 percent each year. As the time passes, one is not losing as much testosterone as the previous year. Therefore, men do not experience as much of a drop in testosterone in their later years so as to trigger hot flashes. This, however, does not imply that a man will never experience hot flashes, but that his chances are bleak. Most cases of hot flashes are related to treatment of prostate cancer. Some men have to go through androgen deprivation therapy, which leads to a drop in testosterone levels, thus influencing the functioning of hypothalamus.
Symptoms
The symptoms of hot flashes in men are the same as in women. Intense heat waves are accompanied by a sensation of flushing of skin along with profuse perspiration. The Harvard Medical School states that there will also be heart palpitations, anxiety and irritability. These symptoms tend to pass as the body begins to adjust itself to the changing hormone levels. But, a lot of men are in need of medical intervention to have their hot flashes treated.
Treatment
If you are experiencing intense heat waves and are having a hard time dealing with them, get yourself an appointment with the doctor. One of the first things that a doctor does upon diagnosis of hot flashes is prescribing medication. Vitamins as well as other minerals such as potassium will not be of much benefit. Men would be able to see an improvement in their condition with the help of selective serotonin reuptake inhibitors. These come under antidepressants and anticonvulsants. Speak to your doctor about the type and kind of medication that will suit your case.

Although, low level of potassium does not lead to hot flashes, it does lead to couple of other mean health problems such as constipation, weakness, fatigue, abnormal heart rhythm, and muscle spasms and in severe cases, even paralysis.
Read more articles on Men's Health.