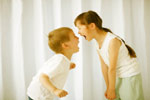 If you are an angry person who cannot resist the temptation to argue then here is a bad news for you. You could die young if you argue too much!
Now you can add arguing to the likes of smoking, a sedentary lifestyle and unhealthy diet that could increase your risk of dying young. A new study says that if you have an unhealthy relationship with your parents, family members and friends then you could die early.

A study was conducted by Rikke Lund and colleagues from the Department of Public Health of the University of Copenhagen in Denmark that examined the link between stressful social relationships and mortality risks. It was found out that by being in an argument constantly and by having conflict with family and friends one could increase one's risk of premature death.

The study published in the Journal of Epidemiology and Community Health on May 8 had Rikke Lund and his colleagues survey the social relationships of nearly 10,000 participants of the Danish Longitudinal Study on Work, Unemployment and Health who were between 36 to 52 years old. The study that lasted for 11 years, 442 of the participants had died, and cancer was accounted for in nearly half of the deaths while the rest occurred due to heart disease and stroke, liver disease, accidents and even suicides.

The research also found that those participants facing demands from partners or children had about 50 to 100 percent increased risk of dying, and those who had unhealthy relationship with their relatives, friends, and neighbours had up to three times increased death risks. Then there are those who are jobless, they appear to increase the negative effects of a stressful relationship as those who were unemployed had the risk of dying from any cause than the participants who were employed. Men happen to be more vulnerable to the effects of arguments and conflicts much like those who faced demands from their family, friends and were more than likely to die as women who had similar situation.

The researchers wrote, "Stressful social relations are associated with increased mortality risk among middle-aged men and women for a variety of different social roles. Those outside the labor force and men seem especially vulnerable to exposure."

Image Source: gettyimages.in

Read more on Health News.