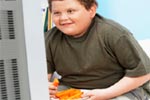 A recent study suggested that eating junk food and exposure to media may affect your child's academic performance.
According to a latest study, if your child's academic performance is a matter of concern for you, then give him more raw food and restrict his contact with media.

If a child is obese it may lead to attention-deficit/hyperactivity disorder, learning disorders, and poor academic performance.
Clinical assistant professor of psychiatry at the Louisiana State University Health Sciences in US, Kristopher Kaliebe said "eating natural, unprocessed, raw food eliminates the constant need to calculate calories, carbohydrates, fat, protein, vitamins - a reason diets fail".

He further added, "children as well as parents need to find excuses to move whenever possible and be especially active during leisure time".

Also, in order to keep your child's brain sharp his exposure to media should be restricted, suggested the study.

A child's interaction with the gaming world, advertisements, and other electronics drags them away from other important things like family matter, academics, sleep, and development of other interests.

Kaliebe said "celebrations, such as birthday parties, are less meaningful. Do not stress over the occasional special treat, but be strict about everyday routines".

In his conclusion, Kaliebe said "habits have profound effects".

The study was published in the Journal of the American Academy of Child and Adolescent Psychiatry.
Childhood obesity can have many long term health effects too. A child suffering from obesity is very likely to grow up into an obese adult. During their adulthood, these children are at a higher risk of heart disease, type 2 diabetes, stroke, cancer, and osteoarthritis.

Your child's school can play a significant role in preventing him from becoming obese. At home, by introducing some changes in their diet and exercise regime, their weight can be put under control. Parents must set an example of healthy living for their children.
Image courtesy: Getty Images
News source: timesofindia.com
Read more on Health News.