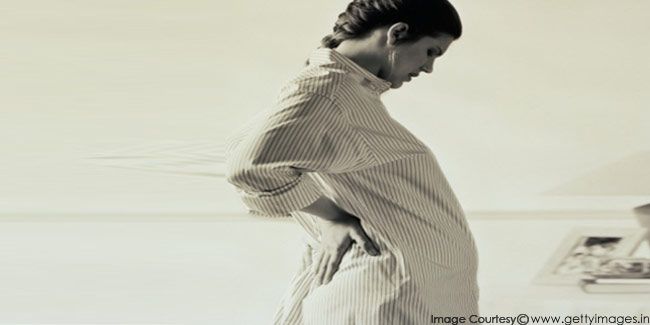 The joy of being a mom brings along some unpleasant experiences too. Joint pains during pregnancy are one of such problems. Know about the factors that trigger it and find out when the right time is to call the doctor.
Being pregnant comes with its share of troubles. Not to downsize its joy, but the problems can really get discomforting sometimes. One such thorn to the rose is joint pain. These are not uncommon to people who are not pregnant but in pregnant women, they are more prominent, especially in the their third trimester.
Not just one but there are various kinds of joint pain that can trouble a pregnant woman. Some of the ones experienced by pregnanct wome include:
Lower Back Pain
• This is the most common type of pain experienced by pregnant women. One-third of pregnant women claim that low back pain is a significant problem.

• This discomfort most commonly starts between the fifth and seventh month of pregnancy.

• Women with previous lumbar problems or chronic back pain conditions are more likely to develop back pain during pregnancy, with pain occurring twice as often as in those with no prior complaints.

• Along those same lines, women who experience back pain during one pregnancy have an 85% chance of experiencing back pain during a subsequent pregnancy.

• There are multiple factors contributing to these symptoms during pregnancy including pelvic changes as well as alterations to loading.
• Activity is also related to the onset of back pain during pregnancy. Patients who have occupations described as 'mostly active' and 'physically demanding' also have a higher risk of developing pain during pregnancy suggesting that extremes of activity are probably not ideal.


Hip Pain
Hip pain can make your daily chores all the more uncomfortable. It even makes sleeping on your side painful. According to Parents Magazine, the hip pain may fall into two categories:

• Sciatica - This pain, which is actually caused by a nerve, can make your hips feel very tender. Typically, this is caused by the baby's position. If your little one is resting on the sciatic nerve, you may notice numbness and tingling, as well as pains that shoot from your hip down the back of your leg. The pain often goes away if your baby changes position.

• Generalised hip pain - This type of pain is also common, but it's a little harder to pinpoint a cause. Parents Magazine reports that most doctors believe general pregnancy-related joint laxity is to blame.

• To alleviate your pain, you can try resting the joint, using heat or ice, and talking to your doctor about pregnancy-approved over-the-counter painkillers.
Knee Pain
The weight gained during pregnancy puts extra strain on the woman's knees. This can result into severe knee pain. According to Everyday Health, Knee pain during pregnancy can be caused or exacerbated by the additional weight you're carrying, as well as the pregnancy hormone relaxin, which can cause your kneecap to not track right.
This pain typically goes away after your baby is born, but there are a few things you can do in the meantime to help:

• Choose your shoes carefully. They should have plenty of cushioning and support.

• Try to stay off your feet. Limit the amount of time you spend standing in one position.

• Stay active. Exercise will build the muscles that help to support your knee joint.

• Talk to your doctor about physical therapy and the use of pain relievers during pregnancy.


Sacroiliac Joint
• Your sacroiliac joint, or SI joint, is located in your lower back, right by your tailbone. According to Spine-Health, sacroiliac joint dysfunction is the most common reason for pregnancy-related back discomfort.

• Symptoms of this type of joint dysfunction include a sharp pain on one or both sides of your tailbone that may get worse with standing or walking and a loud clicking noise when you roll over in bed or move from one position to another.

• This type of joint pain is caused by the pregnancy hormone relaxin, which tells your joints to relax and prepare for childbirth.
Some level of joint pain is common during pregnancy, but you should discuss any type of pain with your health practitioner. If you're experiencing pain in your lower back, this could be a sign of impending labour, especially if it is accompanied by pain in the abdomen. If you pain is occurring at regular intervals and you are not yet 37 weeks pregnant, call your doctor immediately to rule out pre-term labour.

In almost all cases, your joint pain will improve or even go away after your baby is born. In the meantime, talk to your doctor and take it easy. You'll be feeling better soon.


Read more articles on Pregnancy Problems.